Ford criticised
16th March 1985
Page 19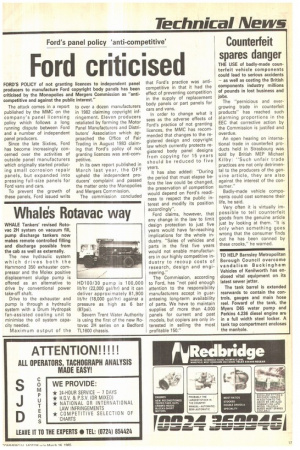 Page 19, 16th March 1985 —
Ford criticised
Close
FORD'S POLICY of not granting licences to independent panel producers to manufacture Ford copyright body panels has been criticised by the Monopolies and Mergers Commission as "anticompetitive and against the public interest."
The attack comes in a report published by the MMC on the company's panel licensing policy which follows a long running dispute between Ford and a number of independent panel producers.
Since the late Sixties, Ford has become increasingly concerned over the activities of outside panel manufacturers which originally started producing small corrosion repair panels, but expanded into pressing full-size panels for Ford vans and cars.
To prevent the growth of these panels, Ford issued writs to over a dozen manufacturers in 1982 claiming copyright infringement. Eleven producers retaliated by forming the Motor Panel Manufacturers and Distributors' Association which approached the Office of Fair Trading in August 1983 claiming that Ford's policy of not granting licences was anti-competitive.
In its own report published in March last year, the OFT upheld the independent producers' complaint and passed the matter onto the Monopolies and Mergers Commission.
The commission concluded that Ford's practice was anticompetitive in that it had the effect of preventing competition in the supply of replacement body panels or part panels for cars and vans.
In order to change what it sees as the adverse effects of Ford's practice of not granting licences, the MMC has recommended that changes to the registered design and copyright law which currently protects registered body panel designs from copying for 15 years should be reduced to five years.
It has also added: "During the period that must elapse before the law could be changed, the preservation of competition would depend on Ford's readiness to respect the public interest and modify its position accordingly".
Ford claims, however, that any change in the law to limit design protection to just five years would have far-reaching implications for the whole industry. "Sales of vehicles and parts in the first five years would not enable manufacturers in our highly competitive industry to recoup costs of research, design and engineering."
The Commission, according to Ford, has "not paid enough attention to the responsibility manufacturers accept in guaranteeing long-term availability of parts. We have to maintain supplies of more than 4,000 panels for current and pest models, but copiers are only interested in selling the most profitable 150."