New den for Lion?
16th July 1987
Page 22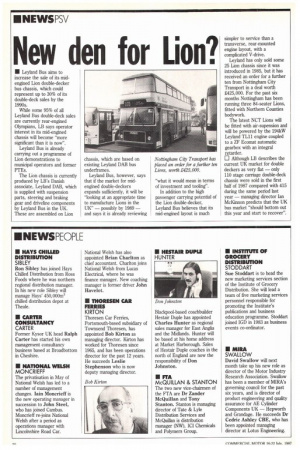 Page 22, 16th July 1987 —
New den for Lion?
Close
• Leyland Bus aims to increase the sale of its midengined Lion double-decker bus chassis, which could represent up to 30% of its double-deck sales by the 1990s.
While some 95% of all Leyland Bus double-deck sales are currently rear-engined Olympians, LB says operator interest in its mid-engined chassis will become "more significant than it is now".
Leyland Bus is already carrying out a programme of Lion demonstrations to municipal operators and former PTEs.
The Lion chassis is currently produced by LB's Danish associate, Leyland DAB, which is supplied with suspension parts, steering and braking gear and driveline components by Leyland Bus in the UK. These are assembled on Lion chassis, which are based on existing Leyland DAB bus underframes.
Leyland Bus, however, says that if the market for midengined double-deckers expands sufficiently, it will be "looking at an appropriate time to manufacture Lions in the UK" — possibly by 1989 — and says it is already reviewing
"what it would mean in terms of investment and tooling".
In addition to the high passenger carrying potential of the Lion double-decker, Leyland Bus believes that its mid-engined layout is much simpler to service than a transverse, rear-mounted engine layout, with a complicated V-drive.
Leyland has only sold some 25 Lion chassis since it was introduced in 1985, but it has received an order for a further ten from Nottingham City Transport in a deal worth 2425,000. For the past six months Nottingham has been running three 84-seater Lions, fitted with Northern Counties bodywork.
The latest NCT Lions will be fitted with air-supension and will be powered by the 194kW Leyland TL11 engine coupled to a ZF Ecomat automatic gearbox with an integral retarder.
0 Although LB describes the current UK market for double deckers as very fiat — only 110 stage carriage double-deck chassis were sold in the first half of 1987 compared with 415 during the same period last year — managing director Ian McKinnon predicts that the UK bus market "should bottom out this year and start to recover".