A few guide lines on redundancy
16th July 1976
Page 58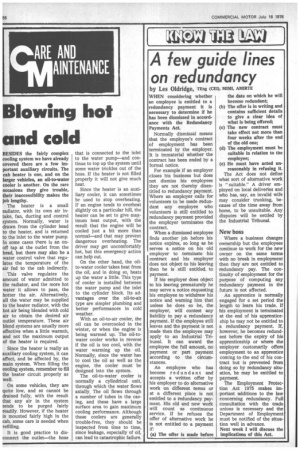 Page 58, 16th July 1976 —
A few guide lines on redundancy
Close
by Les Oldridge, TEng (CEI), MIMI, AMIRTE WHEN considering whether an employee is entitled to a redundancy payment it is necessary to determine if he has been dismissed in accordance with the Redundancy Payments Act.
Normally dismissal means that the employee's contract of employment has been terminated by the employer. It is immaterial whether the contract has been ended by a formal notice.
For example if an employer closes his business but does not dismiss his employees they are not thereby disentitled to redundancy payment. Where an employer calls for volunteers to be made redundant any employee who volunteers is still entitled to redundancy payment provided the employer terminates the contract.
When a dismissed employee ands another job before his notice expires, so long as he serves a notice on his old employer to terminate his contract and his employer does not object to his leaving then he is still entitled to payment.
If Ms employer does object to his leaving prematurely he may serve a notice requesting his employee to withdraw his notice and warning him that unless he does so he, the employer, will contest any liability to pay a redundancy payment. If the employee still leaves and the payment is not made then the employee may apply to an Industrial Tribunal. It can award the employee the full amount, no payment or part payment according to the circumstances.
An employee who has become redundant and accepts a written offer by his employer to do alternative work on different terms or at a different place is not entitled to a redundancy payment. His old and new work will count as continuous service. If he refuses the offer of alternative work he is not entitled to a payment if: (a) The offer is made before the date on which he will become redundant; (b) The offer is in writing and contains sufficient details to give a clear idea of what is being offered; (c) The new contract must take effect not more than four weeks after the end of the old one; (d) The employment must he suitable in relation to the employee; (e) He must have acted un reasonably in refusing it.
The Act does not define what sort of alternative work is "suitable." A driver employed on local deliveries and who has, say, an invalid wife may consider trunking, because of the time away from home, to be unsuitable. Any disputes will be settled by the Industrial Tribunal.
New boss
Where a business changes ownership but the employees continue to work for the new owner on the same terms with no break in employment then they are not entitled to redundancy pay. The continuity of employment for the purpose of computing any redundancy payment in the future is not affected.
An apprentice is normally engaged for a set period the length to learn his trade. If his employment is terminated at the end of his apprenticeship he may not be entitled to a redundancy payment. If, however, he becomes redundant before the expiry of his apprenticeship or where the employer customarily offers employment to an apprentice coming to the end of his contract but is prevented from doing so by redundancy situation, he may be entitled to payment.
The Employment Protection Act 1975 makes important additions to the law concerning redundancy. Full consultation with the trade unions is necessary and the Department of Employment must be notified of the situation well in advance.
Next week I will discuss the implications of this Act.