by Graham Montgomerie
16th July 1976
Page 55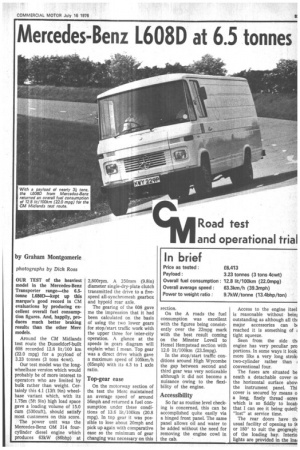 Page 55, 16th July 1976 —
by Graham Montgomerie
Close
photographs by Dick Ross
OUR TEST of the heaviest model in the Mercedes-Benz Transporter range—the 65twine L6800—kept up this marque's good record in CM evaluations by producing excellent overall fuel consumption figures. And, happily, produces much better braking results than the other Mere models.
Around the CM Midlands test route the Dusseldorf-built 608 recorded 12.8 lit/100 km (22.0 mpg) for a payload of 3.23 tonnes (3 tons 4cwt).
Our test model was the longwheelbase version which would probably be of more interest to operators who are limited by bulk rather than weight. Certainly this 4.1 (13ft 9in) wheelbase variant which, with its 1.75m (5ft 9in) high load space gave a loading volume of 15.0 cum (530cuft), should satisfy most customers on this score.
The power unit was the Mercedes-Benz OM 314 fourcylinder diesel engine which produces 63kW (86bhp) at 2,800rpm. A 250mm (9.8in) diameter single-dry-plate clutch transmitted the drive to a fivespeed all-synchromesh gearbox and hypoid rear axle.
The gearing of the 608 gave me the impression that it had been calculated on the basis of using the two lower gears for stop/start traffic work with the upper three for inter-city operation. A glance at the speeds in gears diagram will explain what I mean. Top gear was a direct drive which gave a maximum speed of 105km/h (65mph) with its 4.3 to 1 axle ratio.
Top-gear ease
On the motorway section of the test the Mere maintained an average speed of around 56mph and returned a fuel consumption under these conditions of 13.6 lit/100km (20.8 mpg). In top gear it was possible to lose about 20mph and pick up again with comparative ease so the minimum of gear changing was necessary on this