Toughen up 0-licensing controls,
16th July 1976
Page 4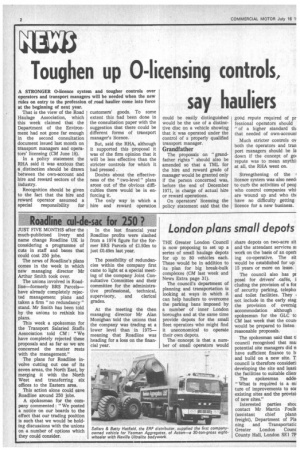 Page 4, 16th July 1976 —
Toughen up 0-licensing controls,
Close
A STRONGER 0-licence system and tougher controls over operators and transport managers will be needed when the new rules on entry to the profession of .road haulier come into force at the beginning of next year.
In a policy statement the RHA said it was anxious that a.distinction should be drawn between the own-account and hire and reward sectors of the industry.
Recognition should be given to the fact that the hire and reward operator assumed a special responsibility for extent this had been done •in the consultation paper with the suggestion that there could be different forms of transport manager's licence.
But, said the RHA, although it supported this proposal it was of the firm opinion that it will be less effective than the stricter controls for which it had pressed.
Doubts about the effectiveness of the " two-level " plans arose out of the obvious difficulties there would be in enforcing it.
The only way in which a hire and reward operation JUST FIVE MONTHS after the much-publicised livery and name change Roadline UK is considering a programme of cuts in staff and bases that could cost 250 jobs.
The news of Roadline's plans comes in the week in which new managing director Mr Arthur Smith took over.
The unions involved in Roadline—formerly BRS Parcels— have already completely rejected management plans and taken a firm "no redundancy" stand. Mr Smith has been told by the unions to rethink his plans.
This week a spokesman for the Transport Salaried Staffs Association • told CM: "We have completely rejected these proposals and as far as we are concerned the matter rests with the management."
The plans for Roadline involve cutting out one of its seven areas, the North East, by merging it with the North West •and transferring six offices to the Eastern area.
This action alone could save Roadline around 250 jobs.
A spokesman for the company commented : "We posted a notice on our boards to the effect that our trading position is such that we would be holding discussions with the unions on a number of options which they could consider. In the last financial year Roadline profits were slashed from a 1974 figure for the former BRS Parcels of £1.93m to just £0.49m last year.
The possibility of redundancies within the company first came to light at a special meeting of the company Joint Consultative Committee and their committee for the administrative professional, technical, supervisory, and clerical grades.
At the meeting the then managing director Mr Alan Monighan told the unions that the company was trading at a lower level than in 1975— meaning that Roadline was heading for a loss on the financial year.