Off the peg trucks from Leyland LEYLAND has launched a
16th July 1976
Page 30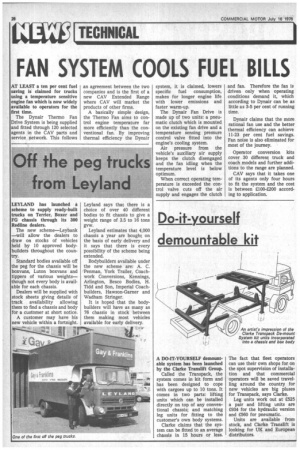 Page 30, 16th July 1976 —
Off the peg trucks from Leyland LEYLAND has launched a
Close
scheme to supply ready-built trucks on Terrier, Boxer and FG chassis through its 300 Redline dealers.
The new scheme—Leybank —will allow the dealers to draw on stocks of vehicles held by 10 approved bodybuilders throughout the country.
Standard bodies available off the peg for the chassis will be boxvans, Luton boxvans and tippers of various weights— though not every body is available for each chassis.
Dealers will be supplied with stock sheets giving details of track availability allowing them to find a chassis and body for a customer at short notice.
A customer may have his new vehicle within a fortnight. Leyland says that there is a choice of over 40 different bodies to fit chassis to give a weight range of 3.5 to 16 tons gvw.
Leyland estimates that 4,000 chassis a year are bought on the basis of early delivery and it says that there is every possibility of the scheme being extended.
Bodybuilders available under the new scheme are: A. C. Penman, York Trailer, Coachwork Conversions, Kennings, Arlington, Besco Bodies, H. Tidd and Son, Imperial Coachbuilders, Hawson-Garner and Wadham Stringer.
It is hoped that the bodybuilders will have as many as 76 chassis in stock between them making most vehicles available for early delivery.