FAN SYSTEM COOLS FUEL BILLS
16th July 1976
Page 30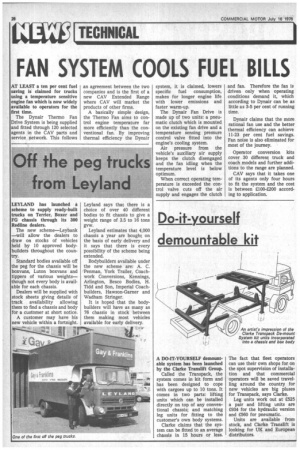 Page 30, 16th July 1976 —
FAN SYSTEM COOLS FUEL BILLS
Close
AT LEAST a ten per cent fuel saving is claimed for trucks using a temperature sensitive engine fan which is now widely available to operators for the first time.
The Dynair Thermo Fan Drive System is being supplied and fitted through 120 selected agents in the CAV parts and service network. This follows an agreement between the two companies and is the first of a new CAV Extended Range where CAV will market the products of other firms.
A basically simple design, the Thermo Fan aims to control engine temperature far more efficiently than the conventional fan. By improving thermal efficiency the Dynair system, it is claimed, lowers specific fuel consumption, makes for longer engine life with lower emissions and faster warm-up.
The Dynair Fan Drive is made up of two units: a pneumatic clutch which is mounted on the existing fan drive and a temperature sensing pressure control valve fitted into the engine's cooling system.
Air pressure from the vehicle's auxiliary air supply keeps the clutch disengaged and the fan idling when the temperature level is below optimum.
When correct operating temperature is exceeded the control valve cuts off the air supply and engages the clutch and fan. Therefore the fan is driven only when operating conditions demand it, which according to Dynair can be as little as 3-5 per cent of running time.
Dynair claims that the more rational fan use and the better thermal efficiency can achieve 11-23 per cent fuel savings. Fan noise is also eliminated for most of the journey.
Operator conversion kits cover 30 different truck and coach models and further additions to the range are planned.
CAV says that it takes one of its agents only four hours to fit the system and the cost is between £100-£200 according to application.