Mini workshop for Leigh
16th July 1976
Page 25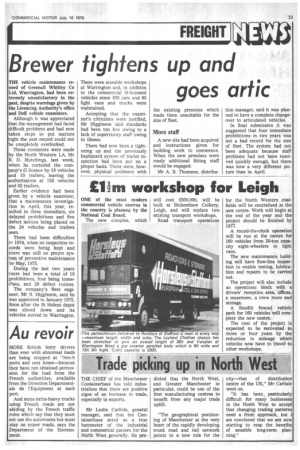 Page 25, 16th July 1976 —
Mini workshop for Leigh
Close
ONE of the most modern commercial vehicle centres in the country is planned by the National Coal Board.
The new complex, which THE CHIEF of the Manchester Containerba.se has told industrialists that there are positive signs of an increase in trade, especially in exports.
Mr Leslie Carlisle, general manager, said that the Containernase acted as a true barometer of the industrial and commercial pattern for the North West generally. He pre will cost £500,000, will be built at Bickershaw Colliery, Leigh, and will replace two existing transport workshops.
Road transport operations dieted that the North West, and Greater Manchester in particular, could be one of the first manufacturing centres to benefit from any major trade uplift.
"The geographical positioning of Manchester at the very heart of the rapidly developing trunk road and rail network points to a new role for the for the North Western coalfields will be centralised at the new centre. Work will begin at the end of the year and the project should be finished by 1977.
A round-the-clock operation will be run at the centre for 160 vehicles from 20-ton capacity eight-wheelers to light vans.
The new maintenance building will have flow-line inspection to enable testing, lubrication and repairs to be carried out.
The project will also include an operations block with a drivers' reception area, offices, a messroorn, a crew room and storage.
A floodlit fenced vehicle park for 160 vehicles will complete the new centre.
The cost of the project is expected to be recovered in three or four years by the reduction in mileage which vehicles now have to travel to other workshops.
city—that of distribution centre of the UK," Mr Carlisle went on.
"It has been particularly difficult for many businesses in the North West to accept that changing trading patterns need a fresh approach, but I am convinced that we are now starting to reap the benefits of sensible long-term planning."