TIR tilt cover ,
16th July 1976
Page 24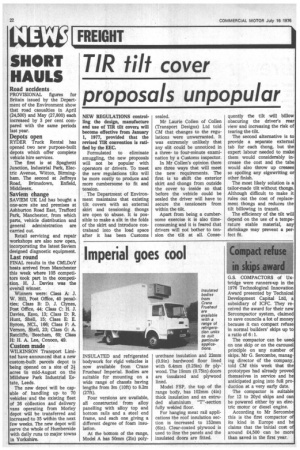 Page 24, 16th July 1976 —
TIR tilt cover ,
Close
proposals unpopular
NEW REGULATIONS controlling the design, manufacture and use of T1R tilt covers will become effective from January 1, 1977, provided that the revised Tut convention is ratified by the EEC.
Formulated to eliminate smuggling, the new proposals will not be popular with operators or drivers. To meet the new regulations tilts will be more costly to produce and more cumbersome to fit and tension, The Department of Environment maintains that existing tilt covers with an external skirt and tensioning thongs are open to abuse. It is possible to make a slit in the folds of the skirt and introduce contraband into the load space after it has been Customs sealed.
Mr Laurie Cohen of Collen (Transport Designs) Ltd told CM that changes to the regulations were unwarranted. It was extremely unlikely that any shit could be unnoticed in a threeto four-minute examination by a Customs inspector.
In Mr Collen's opinion there are three ways that will meet the new requirements. The first is to shift the exterior skirt and thongs from outside the cover to inside so that before the vehicle could be sealed the driver will have to secure the tensioners from within the tilt Apart from being a cumbersome exercise it is also timeconsuming and it is feared that drivers will not bother to tension the tilt at all Conse quently the tilt will billow obscuring the driver's rear view and increasing the risk of tearing the tilt.
The second alternative is to provide a separate external tab for each thong, but the expert labour needed to make them would considerably increase •the cost and the tabs would also throw up creases so spoiling any signwriting or other finish.
The most likely solution is a tailor-made tilt without thongs. Although difficult to make it rules out the cost of replacement thongs and reduces the tilt billowing in transit.
The efficiency of the tilt will depend on the use of a temperature stable material, any shrinkage may prevent a perfect fit.