Small operators opt for hire
16th July 1976
Page 23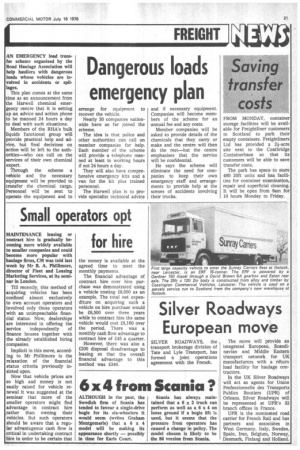 Page 23, 16th July 1976 —
Small operators opt for hire
Close
MAINTENANCE leasing or contract hire is gradually becoming more widely available to smaller companies and could become more popular with haulage firms, CM was told last week by Mr B. A. Phillimore, director of Fleet and Leasing Marketing Services, at its seminar in London.
Till recently, this method of acquiring vehicles has been confined almost exclusively to own account operators and• involved only those operators with an unimpeachable financial status. Now, dealerships are interested in offering the service independently of finance houses together with • the already established hiring companies.
Implicit in this move, according to Mr Phillimore is the relaxation of the financial status criteria previously insisted upon.
Now that vehicle prices are so high and money is not easily raised for vehicle renewal it was suggested at the seminar that more of the smaller operators might find advantage in contract hire ;rather than owning their vehicles. But such operators should be aware that a regular advantageous cash flow is critical in undertaking contract • hire in order to be certain that the money is available at the agreed time to meet the monthly payments.
The financial advantage of contract hire over hire purchase was demonstrated using a vehicle costing £8,000 as an example, The total net expenditure on acquiring such a vehicle on hire purchase would be £8,500 over three years while to contract hire the same vehicle would cost £8,160 over the period. There was a monthly cash flow advantage to contract hire of £45 a quarter.
However, there was also a £200 disposal disadvantage to leasing so that the overall financial advantage to this method was £340.