Dangerous loads
16th July 1976
Page 23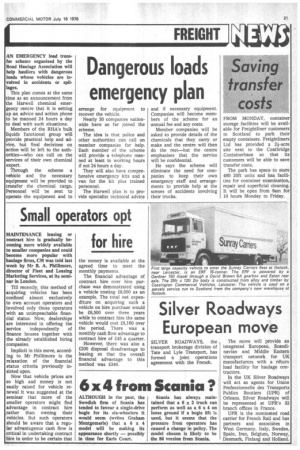 Page 23, 16th July 1976 —
Dangerous loads
Close
emergency plan• arrange for equipment to recover the vehicle.
Nearly 30 companies nationwide have so far joined the scheme.
The idea is that police and other authorities can call on member companies for help. Each member of the scheme will provide a telephone manned at least in working hours if not 24 hours a day.
They will also have comprehensive emergency kits and a van for the kit plus trained personnel.
The Harwell plan is to provide specialist technical advice and if necessary equipment. Companies will become members of the scheme for an annual fee and any costs.
Member .companies will be asked to provide details of the chemicals that they carry or make and the centre will then do the rest—but the centre emphasises that the service will be confidential.
He says the scheme will eliminate the need for companies to keep their own emergency staff and arrangeinents to provide help at the scenes of accidents involving their trucks. FROM MONDAY, container storage facilities will be available for Freightliner customers in Scotland to park their empty containers. Freightliners Ltd has provided a 24-acre site next to the Coatbridge Containerbase so that its customers will be able to save transfer costs.
The park has space to store 480 20ft units and has facilities for container examination, repair and superficial cleaning. It will be open from Sam for 10 hours Monday to Friday.