For Abnormal Loads or Fast Haulage
16th January 1959
Page 67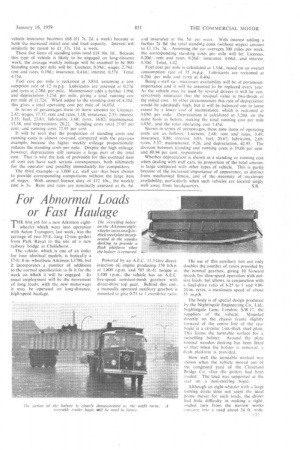 Page 67, 16th January 1959 —
For Abnormal Loads or Fast Haulage
Close
THE first job for a new Atkinson eight' wheeler which went into operation with Acton Transport, last week, was the carriage of two 55-ft.-long 12-ton girders from Park Royal to the site of a new railway bridge at Chislehurst.
The vehicle, which is one of an order for four identical models, is basically a 17-ft. 8-in.-wheelbase Atkinson L1786, but it incorporates a number of additions to the normal specification to fit it for the work on which it will be engaged. Its usual employment will be the movement of long loads: with the new motorways it may be operated on long-distance. high-speed haulage. Powered by an A.E.C. 11.3-litre directinjection oil engine producing 150 b.h.p. at 1,800 r.p.m. and 505 lb.-ft. torque at 1,100 r.p.m., the vehicle has an A.E.0 five-speed constant-mesh gearbox with direct-drive top gear. Behind this unit. a manually operated auxiliary gearbox is mounted to give 0.71 to 1 overdrive ratio.
The use of this auxiliary box not only doubles the number of ratios provided by the normal gearbox, giving 10 forward speeds for slow-speed operation with outsize loads, but allows, in conjunction with a final-drive ratio of 6.25 to 1 and 9.0024-in. tyres, a maximum speed of about 55 m.p.h
The body is of special design produced by the Nightingale Engineering Co.. Ltd., Nightingale Lane, London. S.W.17, the suppliers of the vehicle. Mounted directly on the chassis frame slightly forward of the centre line of the rear bogie is a circular i-in.-thick steel plate. This forms the turntable surface for a swivelling bolster. Around the plate normal wooden decking has been fitted so that when the bolster is removed, a flush platform is provided.
How well the turntable worked was shown when the vehicle moved out of the congested yard of the Cleveland Bridge Co. after the 'girders had been loaded. The load was: supported at the rear on a non-steering bogie.
Although an eight-wheeler with a large turning circle does not seem the ideal prime moNer for such loads, the driver had little difficulty in making a rightangled turn from the narrow works :ntrance into a road about 24 ft. wide.