90-ft. Loads Carried Or Bridge Works
16th January 1959
Page 42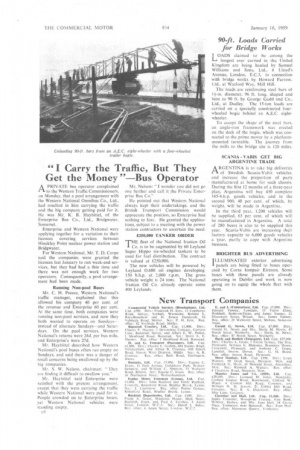 Page 42, 16th January 1959 —
90-ft. Loads Carried Or Bridge Works
Close
LT GADS claimed to be among the J-0 longest ever carried in the. United Kingdom are being hauled by Samuel Williams and Sons, Ltd., 8 Lloyd's Avenue, London, E.C.3, in connection with bridge works by Howard Farrow, Ltd.. at Watford Way, Mill Hill.
The loads are reinforcing steel bars ot if-in, diameter, 96 ft. long, shaped and bent to 90 ft. by George Gadd and Co., Ltd., at Dudley. The 15-ton loads are carried on a specially constructed fourwheeled bogie behind an A.E.C. eightwheeler.
To accept the shape of the steel bars, an angle-iron framework was erected on the deck of the bogie, which was connected to the prime mover by a platformmounted turntable. The journey from the mills to the bridge site is 120 miles.
SCAN IA VABIS GET BIG ARGENTINE TRADE
A RGENTINA is to take big deliveries ri of Swedish Scania-Vabis vehicles. and increase the proportion of parts manufactured at home for such chassis. During the first 12 months of a three-year plan, Argentina will buy 450 complete 165-b.h.p. goods vehicles, and in the second 900, 40 per cent, of which, by weight, will be made in Argentina.
In the third year, 1.200. vehicles will be supplied, 65 per cent, of which will be manufactured in Argentina. A total of 280 buses is also to be supplied this year. Scania-Vabis are increasing their factory capacity to 6,000 goods vehicles a year, partly to cope with Argentine business.
BRIGHTER BUS ADVERTISING
ILLUMINATED exterior advertising I panels are being fitted to buses operated by Coras Iompair Eireann. Some buses with these panels are already operating in Dublin and work is now going on to equip the whole fleet with them.