Small Coach Operators Attacked
16th January 1959
Page 39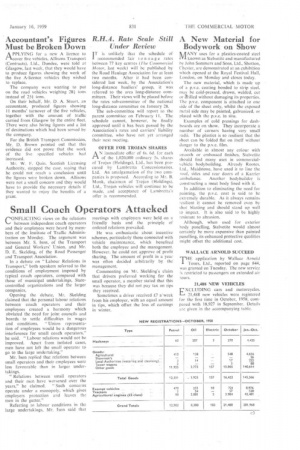 Page 39, 16th January 1959 —
Small Coach Operators Attacked
Close
rONFL1CTING views on the relations
between independent coach operators and their employees were heard by members of the Institute of Traffic Administration on Monday. The argument was between Mr. S. Ison, of the Transport and General Workers' Union, and Mr. D. E. Skelding, of the Road Passenger and Transport Association.
In a debate on "Labour Relations in Transport," both speakers referred to the conditions of employment imposed by typical coach operators, compared with those of municipal undertakings, Statecontrolled organizations and the larger companies, Opening the debate, Mr. Skelding claimed that the personal labour relations between coach operators and their employees created a harmony which obviated the need for joint councils and boards to settle difficulties in wages and conditions. "Union representation of employees would be a dangerous interference for small coach operators." he said. "Labour relations would not be improved. Apart from isolated cases, men have not left the small operator to go to the large undertaking."
Mr. Ison replied that relations between small operators and their employees were less favourable than in larger undertakings.
" Relations between small operators and their men have worsened over the years," he claimed, " Such concerns operate under a monopoly, which gives employers protection arid leaves the men in the gutter."
Referring to labour conditions in the large undertakings, Mr. Ikon said that meetings with employers were held on a friendly basis and the principle of ordered relations prevailed.
He was enthusiastic about incentive schemes, particularly those connected with vehicle maintenance, which benefited both the employee and the management. However, he could not approve of profit sharing. The amount of profit in a year was often decided arbitrarily by the management.
Commenting on Mr. Skelding's claim that drivers preferred working for the small operator, a member stated that this was because they did not pay tax on tips they received.
Sometimes a driver received £7 a'week from his employer, with an equal amount in tips, which offset the loss of earnings in winter.