A New Material for Bodywork on Show
16th January 1959
Page 39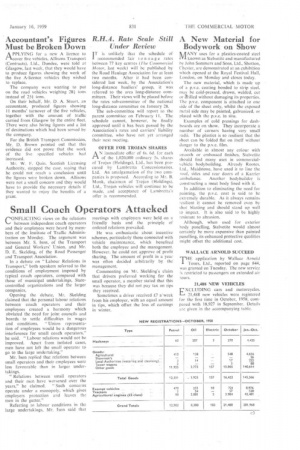 Page 39, 16th January 1959 —
A New Material for Bodywork on Show
Close
lUIANY uses for a plastics-coated steel al known as Stelvetite and manufactured by John Summers and Sons, Ltd., Shotton, Chester, are demonstrated at an exhibition which opened at the Royal Festival Hall, London, on Monday and closes today.
The new material, which is made up of a p.v.c. coating bonded to strip steel, may be cold-pressed, drawn, welded, cut or ailled without damaging its properties. The p.v.c. component is attached to one side of the sheet only, whilst the exposed metal side may be painted, galvanized, or plated with the p.v.c. in situ.
Examples of cold pressings for dashboards are on show, They incorporate a number of corners having very small radii. The plastics is so resilient that the sheet can be folded flat on itself without danger to the p.v.c. film.
Available in almost any colour with smooth or embossed finishes, Stelvetite should find many uses in commercialvehicle bodybuilding. Already Routes, Ltd., Maidstone, have used it to line the roof, sides and rear doors of a Karrier ambulance. Another bodybuilder is constructing a meat body lined with it.
In addition to eliminating the need for painting, the p.v.c. coat is said to be extremely durable. As it always remains resilient it cannot be removed even by shot blasting and should stand up well to impact. It is also said to be highly resistant to abrasion.
Although, when used for exterior body panelling, Stelvetite would almost certainly be more expensive than painted panelling, its enhanced protective qualities inight offset the additional cost.
WALLACE ARNOLD SUCCEED
THE application by Wallace Arnold Tours, Ltd., reported on page 844, was granted on Tuesday. The new service is restricted to passengers on extended air tours.
21,488 NEW VEHICLES XCLUDING cars and motorcycles, 21,488 new vehicles were registered for the first time in October, 1958, compared with 18,927 in September. Details are given in the accompanying table.