14 Councils Lose Fares Appeals
16th January 1959
Page 37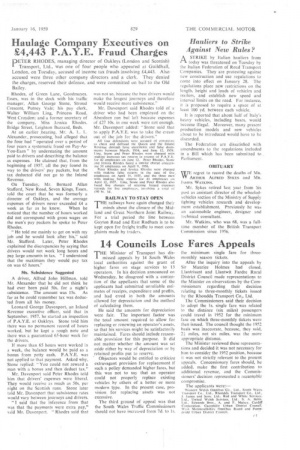 Page 37, 16th January 1959 —
14 Councils Lose Fares Appeals
Close
THE Minister of Transport has dismissed appeals by 14 South Wales local authorities against the grant of higher fares on stage services to 13 operators. In his decision announced on Wednesday, he disagreed with a contention of the appellants that some of the applicants had submitted -unreliable estimates of receipts, expenditure and profits, and had erred in both the amounts allowed for deprecialion and the method of calculating them.
He said the amounts for depreciation were fair. The important factor was the total amount required to allow for replacing or renewing an operator's assets, so that his services might be satisfactorily maintained. Fares should include reasonable provision • for this Purpose. It did not matter .whether the amount was set aside either by way, of depreciation or by retained profits put to reserve.
Objectors would be entitled to criticize extravagant provision for replacement if such a policy demanded higher fares, but this was not to say that an operator could not properly replace existing vehicles by others of a better or more modern type. In the present ease, provision for replacing assets was not excessive.
The third ground of appeal was that the South Wales Traffic Commissioners should not have increased from 7d. to Is,
the minimum single fare for threemonthly season tickets.
After the inquiry into the appeals by Sir Maurice Holmes had closed, Llantrisant and Llantwit Fardre Rural District Council made representations to the Minister on observations by the Commissioners regarding their decision relating to three-monthly tickets issued by the Rhondda Transport Ca., Ltd.
The Commissioners said their decision to adopt the Is. single fare was related to the distance (six miles) passengers could travel in 1952 for the minimum fare on which three-monthly tickets were then issued. The council thought the 1952 basis was inaccurate, because, they said, 24 miles, not six miles, was the more appropriate distance.
The Minister reviewed these representations and decided it was not necessary for him to consider the 1952 position, because it was not strictly relevant to the present appeals. Concessionary fares should, he added, make the first contribution to additional revenue, and the Commissioners' decision represented a reasonable compromise.
The applicants were:— Western Welsh Omnibus Co.. Ltd., South Wales Transport Co., Ltd., Rhondda Transport Co" Ltd., J. James and Sons. Ltd., Red and White Services. Ltd., United Welsh Services, Ltd.. S. A. Rebb, Ltd., Edwards Dros.' A. and F. Maiscy, Cardiff Corporation. Caerphilly Urban District Council, We.d Monmouthshire Omnibus Board and Pontypridd Urban lYstrict Council.