This Year's Thefts May Reach Record Total
16th January 1959
Page 34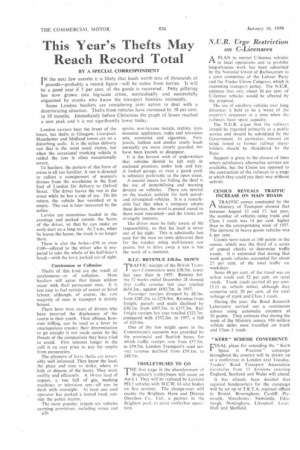 Page 35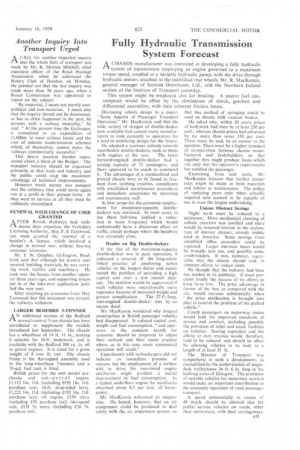 Page 34, 16th January 1959 —
This Year's Thefts May Reach Record Total
Close
BY A SPECIAL CORRESPONDENT
I N the next few months it is likely that loads worth tens of thousands of pounds—probably a record figure—will be stolen from lorries. It will be a good year if 5 per cent. of the goods is recovered. Petty pilfering has now grown into big-scale crime, methodically and successfully organized by crooks who know the transport business intimately. Some London hauliers are considering joint action to deal with a deteriorating situation. Thefts from vehicles have increased by 38 per cent. in 18-months. Immediately before Christmas the graph of losses reached a new peak and it is not significantly lower today.
London carriers bear the brunt of the losses, but thefts in Glasgow, Liverpool, Manchester and Midland towns are on a disturbing scale. It is the urban delivery van that is the most usual victim, but when the occasional trunk ing vehicle is raided the loss is often exceptionally severe.
To hauliers, the pattern of this form of crime is all too familiar. A van is directed to collect a consignment of women's dresses from the warehouse in the East End of London for delivery to Oxford Street. The driver leaves the van in the street while he has a cup of tea. On his return, the vehicle has vanished or ia empty. The van is later recovered by the police.
Lorries are sometimes loaded in the evenings and parked outside the home of the driver, so that he can make an early start on a long run. At 2 a.m., when he leaves the house, the truck is no longer there.
There is also the bribe-00 or even £100—offered to the driver who is prepared to take the whole of his half-hour's break—with the lorry parked out of sight.
Carelessness or Collusion
Thefts of this kind are the result of carelessness—or of collusion. Most hauliers will agree that losses seldom occur with their permanent men. It is less easy to feel certain of casual or hired labour, although. of course, the vast majority of men in transport is strictly honest There have been cases of drivers who have incurred the displeasure of the courts in their youth. Their offence, however trifling, can be used as a lever by unscrupulous crooks: their determination to go straight is not made easier by the threats of the companions they have tried to avoid. Five minutes longer in the café is an easy price to pay for respite from persecution.
The planners of lorry thefts are invariably well informed. They know the load, the place and time to strike, where to hide or dispose of the booty. They work swiftly and efficiently. A 14-ton load of copper, a van full of gin, washing machines or television sets—all can be dealt with overnight. At least one cool operator has parked a looted truck outside the police station.
The most popular targets are vehicles carrying provisions, including wines and n30 spirits, non-ferrous metals, textiles, toys, domestic appliances, radio and television sets, cosmetics and cigarettes. Furs. jewels, bullion and similar costly loads normally are more closely guarded, but have been known to disappear.
It is the fervent wish of underwriters that vehicles should be left only in enclosed premises, under lock and key. A locked garage, or even a gated yard. is infinitely preferable to the open street.
A second means for foiling the thief is the use of immobilizing and warning devices on vehicles. There are several on the market, suitable for both petroland oil-engined vehicles. It is a remarkable fact that when a company adopts these devices, the word is passed round to those most interested—and the trucks are strangely immune.
The driver must be fully aware of Ilia responsibility, so that his load is never out of his sight. This is admittedly less easy for the man on town deliveries than for the trunker using well-known rest points, hut to drive away a van is but the work of a moment.
B.T.C. REVENUE f385m. DOWN
TRAFFIC receipts of the British Transport Commission were £38.5m. lower last year than in 1957. Returns for the 52 weeks ended December 28 showed that traffic revenue last year totalled £654.2m., against £692.7m. in 1957.
Passenger receipts dropped by £8.3m. from £285.2m. to £276.9m. Revenue from freight, parcels and mails declined by £30.2m. from £407.5m. to £377.3m. Rail freight receipts last year totalled £322.7m. compared with £352.2m. in 1957, a fall of £29.4m.
One of the few bright spots in the Commission's accounts was provided by the provincial and Scottish buses. for which traffic receipts rose from £57.5m. to £59.7m. London Transport's road service revenue declined from £59.1m. to £48.5m.
TROLLEYBUSES TO GO THE first stage in the abandonment of Brighton's trolleybuses will occur on April 1. They will be replaced by Leyland PD.2 vehicles with M.C.W. 61-seat bodies on five services. The change-over will enable the Brighton, Hove and District Omnibus Co.. Ltd., a partner in the Brighton pool. to cease trolleybus operation.
N.U.R. Urge Restriction on C-Licensees
AA PLAN to restrict C-licence vehicles to local operation's and to prohibit long-distance work has been submitted by the National Union of Railwaymen to a joint committee of the Labour Party and the Trades Union Congress, which is examining transport policy. The N.U.R. estimate that only about 10 per cent. of C-licence vehicles would be affected by the proposal.
The use of ancillary vehicles over long distances is held to be a waste of the country's resources at a time when the railways have spare capacity.
The N.U.R. argue that the railways should be regarded primarily as a public service and should be subsidized by the Government. In particular, interest on stock issued to former railway shareholders should be shouldered by the State.
Support is given to the closure of lines where satisfactory alternative services are available, but the Union are opposed to the contraction of the railways to a stage at which they could pay their way without subsidy.
CENSUS REVEALS TRAFFIC INCREASE ON MAIN ROADS
ATRAFFIC census conducted by the Ministry of Transport showed that between August 12 and 17, last year, the number of vehicles using trunk and Class 1 roads was 14 per cent. higher than in the corresponding week of 1957. The increase in heavy goods vehicles was 6 per cent.
Counts were taken at 100 points in the census, which was the third of a series of annual checks to determine traffic trends. It is estimated that during that week goods vehicles accounted for about 23 per cent, of the total traffic on weekdays.
Some 48 per cent, of the travel was on urban roads and 52 per cent, on rural roads. Trunk roads carried 43 per cent. (3.11 in. vehicle miles), although they comprise only 30 per cent, of the total mileage of trunk and Class 1 roads.
During the year. the Road Research Laboratory carried out a continuous census using automatic counters at 50 points. They estimate that during the week of the Ministry census. 950 million vehicle miles were travelled on trunk and Class 1 roads.
"KERB" SCHEME CONFERENCE
FINAL plans for extending the "Kerb Space is Precious" campaign throughout the country will be drawn up at a conference in London next Tuesday. Traders' Road Transport Association secretaries from 13 divisions covering England, Scotland and Wales will attend.
It has already been decided that regional headquarters for the campaign will be set up at T.R.T.A. regional offices in Bristol, Birmingham, Cardiff. Plymouth, Manchester, Newcastle. Edinburgh, Nottingham, Liverpool, Leeds Hull and Sheffield.
Another Inquiry Into Transport Urged
ACALL for another impartial inquiry into the whole field of transport was made by Mr, R. Morton Mitchell, chief executive officer of the Road Haulage Association, when he addressed the Rotary Club of Hendon, on Monday. He pointed out that the last inquiry was made more than 30 years ago, when a Royal Commission was appointed to report on the subject.
By impartial, 1 mean not merely nonpolitical and non-sectarian. I mean also that the inquiry should not be dominated, as has so often happened in the past, by persons with a railway mentality," he said. " At the present time the Exchequer is committed to an expenditure of £1,600m, to meet railway losses and the cost of interim modernization schemes which, of themselves, cannot make the railways commercially successful."
This heavy taxation burden represented about a third of the Budget. The transport industry should be organized primarily so that trade and industry and the public could reap the maximum advantage of technical improvements.
However much money was pumped into the railways, they could never again run at a profit in their present form. If they were to survive at all they must be ruthlessly streamlined.
RENEWAL WITH CHANGE OF USER GRANTED
AFTER British Railways had withdrawn their objection, the Yorkshire Licensing Authority, Maj. F. S. Eastwood, last week granted the renewal of a haulier's A licence, which involved a change in normal user, without hearing customer witnesses.
Mr. T. W. Dolphin, Girlington, Bradford, said that although his present user covered building materials, he was carrying wool, textiles and machinery. He took over the licence from another operator three years ago, and supporting letters put in at the take-over application justified the new user.
After receiving an assurance from Maj. Eastwood that this statement was correct, the railways withdrew.
LARGER BEDFORD 5-TONNER
AN additional version isf the Bedford normal-control 5-ton chassis has been introduced to supplement the models introduced last September. The chassis has a wheelbase -of 14 ft. 11 in., making it suitable for 16-ft. bodywork, and is available with the Bedford 300 cu. in. oil or petrol engines. It is rated for a gross weight of 8 tons 01 cwt. The chassis frame is the flat-topped assembly used in the long-wheelbase 7-tonners and a 26-gal. fuel tank is fitted.
British prices for the new model are: chassis and cab—p etrol engine, £1.112 14s. 11d. (including £192 14s. lid. purchase tax); 16-ft. drop-sided lorry. £1,222 14s. 11d. (including £192 14s. 11d. purchase tax); oil engine, £150 extra (including £30 purchase tax); two-speed axle, £131 5s. extra (including £26 5s. purchase tax).
Tags
Locations
:
Manchester
,
Cardiff
,
Sheffield
,
Glasgow
,
Nottingham
,
London
,
Birmingham
,
Midland
,
Bradford
,
Liverpool
,
Bristol
,
Edinburgh
,
Plymouth
,
Newcastle