Transrail claims 5,000 loads off road hauliers
16th February 1995
Page 8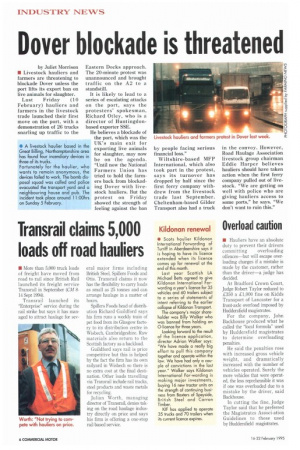 Page 8, 16th February 1995 —
Transrail claims 5,000 loads off road hauliers
Close
• More than 5,000 truck loads of freight have moved from road to rail since British Rail launched its freight service Transrail in September (CM 814 Sept 1994).
Transrail launched its "Enterprise" service during the rail strike but says it has managed to attract haulage for sev eral major firms including British Steel, Spillers Foods and Otis. Transrail claims it now has the flexibility to carry loads as small as 25 tonnes and can arrange haulage in a matter of hours.
Spillers Foods head of distribution Richard Guildford says his firm runs a weekly train of pet food from its Glasgow factory to its distribution centre in Wisbech, Cambridgeshire. Raw materials also return to the Scottish factory as a backload.
Guildford says rail is price competitive but this is helped by the fact the firm has its own railyard in Wisbech so there is no extra cost at the final destination. Other loads travelling via Transrail include rail tracks, steel products and waste metals for recycling.
Julian Worth, managing director of Transrail, denies taking on the road haulage industry directly on price and says his firm is offering a one-stop rail-based service.