"One can only assume that the trial is a piece of window dressing"
16th February 1995
Page 48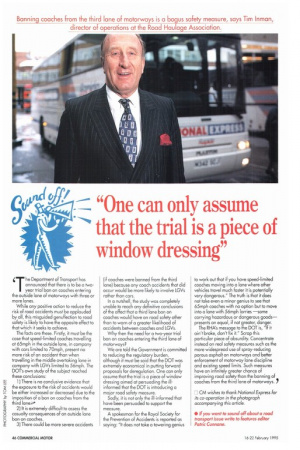 Page 48, 16th February 1995 —
"One can only assume that the trial is a piece of window dressing"
Close
Che Department of Transport has T
announced that there is to be a two year trial ban on coaches entering the outside lane of motorways with three or more lanes.
While any positive action to reduce the risk of road accidents must be applauded by all, this misguided genuflection to road safety is likely to have the opposite effect to that which it seeks to achieve.
The facts are these. Firstly, it must be the case that speed-limited coaches travelling at 65mph in the outside lane, in company with cars limited to 70mph, present no more risk of an accident than when travelling in the middle overtaking lane in company with LGVs limited to 56mph. The DOT's own study of the subject reached these conclusions:
1) There is no conclusive evidence that the exposure to the risk of accidents would be either increased or decreased due to the imposition of a ban on coaches from the third lane,-,
2) It is extremely difficult to assess the casualty consequences of an outside lane ban on coaches.
3) There could be more severe accidents (if coaches were banned from the third lane) because any coach accidents that did occur would be more likely to involve LGVs rather than cars.
In a nutshell, the study was completely unable to reach any definitive conclusions of the affect that a third lane ban on coaches would have on rood safety other than to warn of a greater likelihood of accidents between coaches and LGVs.
Why then the need for a two-year trial ban on coaches entering the third lane of motorways?
We are told the Government is committed to reducing the regulatory burden, although it must be said that the DOT was extremely economical in putting forward proposals for deregulation. One con only assume that the trial is a piece of window dressing aimed at persuading the illinformed that the DOT is introducing a major road safety measure. Sadly, it is not only the ill-informed that have been persuaded to support the measure.
A spokesman for the Royal Society for the Prevention of Accidents is reported as saying: "It does not take a towering genius to work out that if you have speed-limited coaches moving into a lane where other vehicles travel much faster it is potentially very dangerous." The truth is that it does not take even a minor genius to see that 65mph coaches with no option but to move into a lane with 56mph lorries —some carrying hazardous or dangerous goods— presents an equal, if not greater, danger. The RHA's message to the DOT is, "If it ain't broke, don't fix it." Scrap this particular piece of absurdity. Concentrate instead on real safety measures such as the more widespread use of spray-reducing porous asphalt on motorways and better enforcement of motorway lane discipline and existing speed limits. Such measures have an infinitely greater chance of improving road safety than the banning of coaches from the third lane of motorways.
CM wishes to thank National Express for its co-operation in the photograph accompanying this article.