Thompson the tank engineer
16th February 1995
Page 46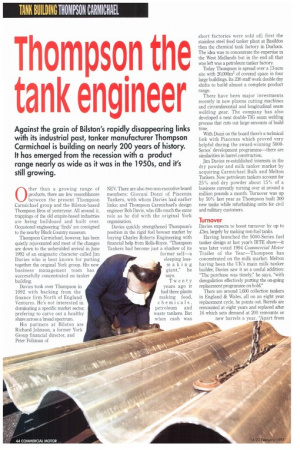 Page 47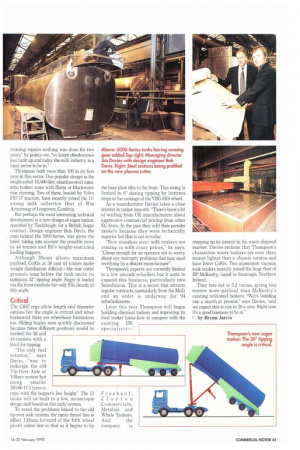 Page 46, 16th February 1995 —
Thompson the tank engineer
Close
0 ther than a growing range of products, there are few resemblances between the present Thompson Carmichael group and the Bilston-based Thompson Bros of yesteryear. All around it, trappings of the old empire-based industries are being bulldozed and built over. Occasional engineering 'finds' are consigned to the nearby Black County museum.
Thompson Carmichael, however, has been quietly rejuvenated and most of the changes are down to the unheralded arrival in June 1992 of an enigmatic character called Jim Davies who is best known for putting together the original York group. His new business management team has successfully concentrated on tanker building.
Davies took over Thompson in 1992 with backing from the finance firm North of England Ventures. He's not interested in dominating a specific market sector, prefering to carve out a healthy share across a broad spectrum. .
His partners at Bilston are Richard Johnson, a former York Group financial director, and Peter Folkman of NEV. There are also two non-executive board members: Giovani Dozzi of Piacenza Tankers, with whom Davies had earlier links; and Thompson Carmichael's design engineer Bob Davis, who fills much the same role as he did with the original York organisation.
Davies quickly strengthened Thompson's position in the rigid fuel bowser market by buying Charles Roberts Engineering with financial help from Rolls-Royce. "Thompson Tankers had become just a shadow of its former self—a sleeping lossmaking giant," he says.
Twenty years ago it had three plants making food, chemicals, petroleum and waste tankers. But when cash was short factories were sold off; first the stainless steel food tanker plant at Basildon then the chemical tank factory in Durham. The idea was to concentrate the expertise in the West Midlands but in the end all that was left was a petroleum tanker factory.
Today Thompson is spread over a 13-acre site with 20,000m2 of covered space in four large buildings. Its 230 staff work double day shifts to build almost a complete product range.
There have been major investments recently in new plasma cutting machines and circumferential and longitudinal seam welding gear. The company has also developed a neat double-TIG seam welding process that cuts out large amounts of build time.
With Dozzi on the board there's a technical link with Piacenza which proved very helpful during the award-winning 5000Series' development programme—there are similarities in barrel construction.
Jim Davies re-established interests in the dry powder and milk tanker market by acquiring Carmichael Bulk and Melton Tankers. Now petroleum tankers account for 25% and dry powder about 15% of a business currently turning over at around a million pounds a month. Turnover was up by 50% last year as Thompson built 300 new tanks while refurbishing units for civil and military customers.
Turnover
Davies expects to boost turnover by up to .C3m, largely by making non-fuel tanks.
Having launched the 5000-Series fuel tanker design at last year's IRTE show—it was later voted 1994 Commercial Motor Trailer of the Year—Thompson has concentrated on the milk market. Melton having been the UK's main milk tanker builder, Davies saw it as a useful addition: "The purchase was timely," he says, "with deregulation effectively putting the on-going replacement programme on hold."
There are around 1,600 collection tankers in England & Wales, all on an eight year replacement cycle, he points out. Barrels are remounted at eight years and replaced after 16 which sets demand at 200 remounts or running repairs nothing was done for two years," he points out, "so latent obsolescence just built up and today the milk industry is a busy sector to be in."
Thompson built more than 100 in its first year in this sector. One popular design is the single-axled 16,500-litre stainless-steel miniartic tanker; some with Hosta or Blackwater rear steering. Two of these, hauled by Volvo FS7-17 tractors, have recently joined the 17strong milk collection fleet of Wm Armstrong of Longtown, Cumbria.
But perhaps the most interesting technical development is a new design of sugar tanker, specified by Tankfreight for a British Sugar contract. Design engineer Bob Davis, the man behind the 5000-Series, was given the brief, taking into account the possible move to 44 tonnes and BS's height-restricted loading hoppers.
Although 39cum allows maximum payload, CofGs at 38 and 44 tonnes make weight distribution difficult—the rear outlet grounds long before the tank nears its optimum 32 tipping angle. Sugar is loaded via the fi-ont manhole but only fills cleanly at this angle.
Critical
The C&U regs allow length and diameter options but the angle is critical and when horizontal there are wheelbase limitations too. Sliding bogies were quickly discounted because three different positions would be needed: for 38 and 44-tonners with a third for tipping.
"The only real solution," says Davis, "was to redesign the old Tip-Over Axle or Villiers system but using smaller 285/80 17.5 tyres to cope with the hoppers low height." The 12 tanks will be built to a low, monocoque design and based on this early system.
To avoid the problems linked to the old tip-over axle system, the ram's thrust line is offset 133mm forward of the fifth wheel pivot's centre line so that as it begins to tip the base plate tilts to the front. This swing is limited to 6° during tipping by buttress stops in the castings of the VBG fifth wheel.
As a manufacturer Davies takes a close interest in tanker imports: "There's been a lot of wailing from UK manufacturers about aggressive commercial pricing from other EC firms. In the past they sold their powder tankers because they were technically superior but that is not so today.
"Now stainless steel milk tankers are coming in with crazy prices," he says. "Cheap enough for an operator not to worry about any warranty problems that may need rectifying by a distant manufacturer".
Thompson's exports are currently limited to a few aircraft refuellers but it aims to expand this business, particularly into Scandinavia. This is a sector that attracts regular contracts, particularly from the MoD, and an order is underway for 94 refurbishments.
Later this year Thompson will begin building chemical tankers and improving its food tanker know-how to compete with the existing UK
specialists—
stepping up its interest in the waste disposal market. Davies reckons that Thompson's chassisless waste tankers are over three tonnes lighter than a chassis version and have lower CofGs, Two aluminium vacuum tank trailers recently joined the huge fleet of BP McKeefry, based in Svvatragh, Northern Ireland.
They tare out at 5.2 tonnes, giving two tonnes more payload than McKeefry's existing mild-steel tankers. "We're building one a month at present," says Davies, "and we expect this to rise to 20 a year. Right now it's a good business to be in."
III by Bryan Jarvis