ROADTEST
16th February 1995
Page 38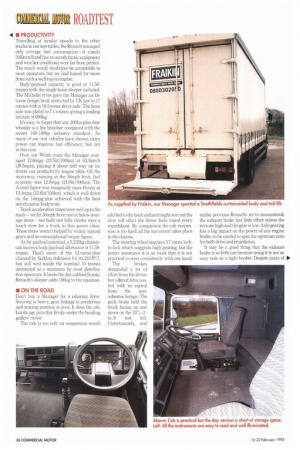 Page 40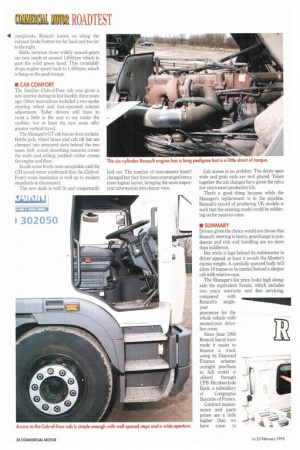 Page 41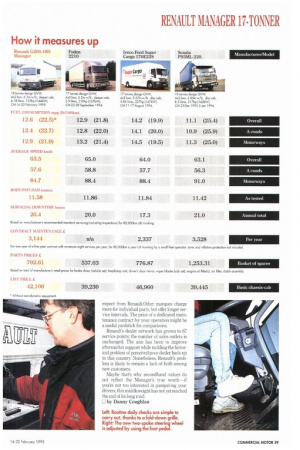 Page 38, 16th February 1995 —
ROADTEST
Close
Travelling at similar speeds to the other trucks in our test tables, the Renault managed only average fuel consumption—it stands 3.65m tall and has no aerodynamic equipment and weather conditions were far from perfect. The result would doubtless be acceptable to most operators but we had hoped for more from such a well-run-in engine.
Body/payload capacity is good at 11.58tonnes with the single bunk sleeper included. The Michelin tyres gave the Manager an 18tonne design limit, restricted by UK law to 17 tonnes with a 10.5-tonne drive axle. The front axle was plated to 7.1 tonnes, giving a loading latitude of 600kg.
It's easy to forget that any 200hp-plus four wheeler is a fire breather compared with the recent 160-180hp industry standard. As many of our test vehicles have shown, extra power can improve fuel efficiency; but not in this case.
Over our Welsh route the Manager averaged 12.6mpg (22.51it/100km) at 63.51un/h (:39.5mph), placing it about half way up (or down) our productivity league table. On the motorway, running at the 56mpb limit, fuel economy was 12.9mpg. (21.91it/100km). The A-road figure was marginally more thirsty at 12.4mpg (22.814/100km), which is well down on the 14mpg-plus achieved with the best aerodynamic bodywork.
Track acceleration times were well up to the mark—we hit 50mph from rest in below-average times—but both test hills climbs were a touch slow for a truck in this power class. These times weren't helped by widely spaced gears and an unexceptional torque figure.
As for payload potential, a 5,235kg chassiscab leaves a body/payload allowance of 11.58tonnes. That's short of the 12-tonne-plus claimed by Seddon Atkinson for its 210.P17, but still well inside the nominal 10 tonnes demanded as a minimum by most distribution operators. It beats the day-cabbed Scania: Renault's sleeper adds 160kg to the equation.
• ON THE ROAD Don't buy a Manager for a relaxing drive. Steering is heavy, gear linkage is ponderous and seating position is poor. It does the job, but its age puts this firmly under the heading gaffers' motor.
The ride is too soft: air suspension would add feel to the back end and might sort out the slow roll effect the driver feels round every roundabout. By comparison the cab suspension is too hard: all the movement takes place in the chassis.
The steering wheel requires 5.7 turns lockto-lock which suggests high gearing, but the power assistance it is so weak that it is not practical to steer consistently with one hand.
The brakes demanded a lot of effort from the driver but offered firm control with no squeal from the nonasbestos linings. The park brake held the truck facing up and down on the 33% (1 in-3) test hill. Unfortunately, and unlike previous Renaults we've encountered, the exhaust brake has little effect unless the revs are high and the gear is low. Axle gearing has a big impact on the power of any engine brake, so be careful to spec the optimum ratio for both drive and retardation.
It may be a good thing that the exhaust brake is so little use because using it is not an easy task on a right-hooker. Despite years of O.
• complaints, Renault insists on siting the exhaust brake button too far back and too far to the right.
Shifts between those widely spaced gears are best made at around 1,85Orpm which is past the solid green hand. This invariably drops engine speed back to 1,400rpm, which is bang on the peak torque.
The familiar Club-of-Four cab was given a new interior during its last facelift, three years ago. Other innovations included a two-spoke steering wheel and foot-operated column adjustment. Taller drivers still have to twist a little in the seat to see under the roofline, but at least the new seats offer greater vertical travel.
The Manager's GT (2b has no door pockets. Bottle jack, wheel brace and cab tilt bar are clamped into prepared slots behind the two seats. Soft, sound absorbing material covers the walls and ceiling; padded rubber covers the engine and floor.
In-cab noise levels were acceptable and the CM sound meter confirmed that the Club-of Four's noise insulation is well up to modern standards in this respect.
The new dash is well lit and competently laid out. The number of instruments hasn't changed but they have been rearranged into a more logical layout, bringing the more important information into clearer view. Cab access is no problem. The doors open wide and grab rails are well placed. Taken together the cab changes have given the cab a few years more productive life.
That's a good thing because while the Manager's replacement is in the pipeline, Renault's record of producing UK models is such that the existing model could be soldiering on for years to come.
Drivers given the choice would not choose this Renault: steering is heavy, gearchange is ponderous and ride and handling are no more than indifferent.
But while it lags behind its stablemates in driver appeal, at least it avoids the Maxter's excess weight. A carefully specced body will allow 10 tonnes to be carried behind a sleeper cab with relative ease.
The Manager's list price looks high alongside the equivalent Scania, which includes two years warranty and free servicing, compared with Renault's single. year guarantee for the whole vehicle with second-year driveline cover.
Since June 1994 Renault has at least made it easier to finance a truck using its Diamond Finance scheme: outright purchase to full rental is offered through UFB Humberclyde Bank, a subsidiary of Compagnie Bancaire of France.
Contract maintenance and parts prices are a little higher than we have come to expect from Renault.Other marques charge more for individual parts, but offer longer service intervals. The price of a dedicated maintenance contract for your operation might be a useful yardstick for comparisons.
Renault's dealer network has grown to 67 service points; the number of sales outlets is unchanged. The aim has been to improve aftermarket support while tackling the historical problem of perceived poor dealer back-up in this country Nonetheless, Renault's problem is likely to remain a lack of faith among new customers.
Maybe that's why secondhand values do not reflect the Manager's true worth-if you're not too interested in pampering your drivers, this middleweight has not yet reached the end of its long road.
LI by Danny Coughlan