Queries raised over site access
16th February 1995
Page 24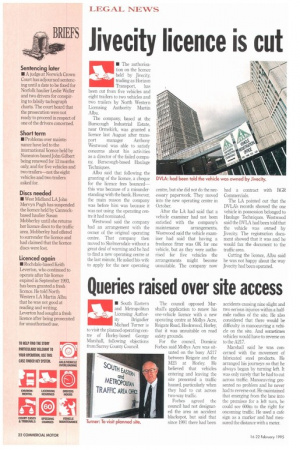 Page 24, 16th February 1995 —
Queries raised over site access
Close
• South Eastern and Metropolitan Licensing Author
ity Brigadier Michael Turner is to visit the planned operating cenn-e of Harley-based George Marshall, following objections from Surrey County Council.
The council opposed Marshall's application to renew his one-vehicle licence with a new operating centre at Mollys Acre, Reigate Road, Hookwood, that it was unsuitable on road safety grounds.
For the council, Dominic Forbes said Mollys Acre was situated on the busy A217 between Reigate and the M23 at Horley. He believed that vehicles entering and leaving the site presented a traffic hazard, particularly when they had to cut across two-way traffic.
Forbes agreed the council had not designated the area an accident blackspot, but said that since 1991 there had been accidents causing nine slight and two serious injuries within a halfmile radius of the site. He also considered that there would be difficulty in manoeuvring a vehicle on the site. And sometimes vehicles would have to reverse on to the A217.
Marshall said he was concerned with the movement of fabricated steel products. He arranged his journeys so that he always began by turning left. It was only rarely that he had to cut across traffic. Manoeuvring presented no problem and he never had to reverse out. He maintained that emerging from the lane into the premises for a left turn, he could see 600m to the right for oncoming traffic. He used a cafe sign as a marker and had measured the distance with a meter.