British EuroTrakker is a winner
16th February 1995
Page 22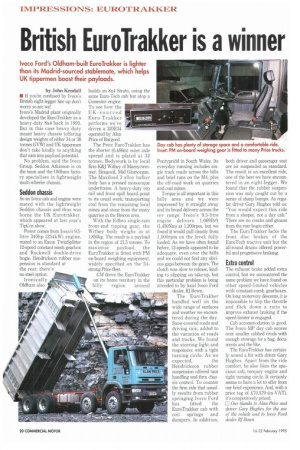 Page 22, 16th February 1995 —
British EuroTrakker is a winner
Close
by John Kendall • If you're confused by Iveco's British eight-legger line up don't worry so are we!
Iveco's Madrid plant originally developed the EuroTrakker as a heavy-duty 8x4 back in 1993. But in this case heavy duty meant heavy chassis (offering design weights of either 34 or 38 tonnes GVW) and UK tippermen don't take kindly to anything that eats into payload potential.
No problem, said the Iveco Group, Seddon Atkinson is on the team and the Oldham factory specialises in lightweight multi-wheeler chassis.
Seddon chassis
So an Iveco cab and engine were mated with the lightweight Seddon chassis and thus was borne the UK Eurotrakker. which appeared at last year's TipCon show.
Power comes from Iveco's 95litre 340hp (254kW) engine, mated to an Eaton TwinSplitter 12-speed constant-mesh gearbox and Rockwell double-drive bogie, Hendrickson rubber suspension is standard at the rear; there's no steel option. Ironically Oldham also builds an 8x4 Strato, using the same Euro-Tech cab but atop a Cummins engine. To see how the UK-sourced Euro-Trakker performs we've driven a 320E34 operated by Alan Price of Bargoed.
The Price EuroTrakker has the shorter (6.486m) outer axle spread and is plated at 32 tonnes. Bodywork is by local firm K&J Withey of Maesycwrnmer, Hengoed, Mid Glamorgan. The Maxiload 3 alloy bulker body has a pressed monocoque underframe. A heavy-duty top rail and front spill board point to its usual work; transporting coal from the remaining local mines and stone from the many quarries in the Brecon area.
With the Edbro single-ram front-end tipping gear, the Withey body weighs in at 1,850kg. The result is a payload in the region of 21.5 tonnes. To maximise payload, the EuroTrakker is fitted with PM on-board weighing equipment, widely specified on the 34strong Price fleet.
CM drove the EuroTrakker on its home territory in the hilly region around Pontypridd in South Wales. Its everyday running includes single track roads across the hills and brief runs on the M4, plus the off-road work on quarries and coal mines.
Torque is all important in this hilly area and we were impressed by it straight away and its broad delivery across the rev range. Iveco's 9.5-litre engine delivers 1,0691bft (1,450Nm) at 1,200rpm, but we found it would pull cleanly from 1,000rpm on the level, fully loaded. As we have often found before, 12-speeds appeared to be adequate, even over the hills and we could not find any obvious gaps between the gears. The clutch was slow to release, leading to slipping on take-up, but this particular problem is being attended to by local Iveco Ford dealer, RJ Bown.
The EuroTrakker handled well on the wide range of surfaces and weather we encountered during the day. Snow-covered roads and driving rain, added to the variation of roads and tracks. We found the steering light and responsive with a tight turning circle. As we expected, the Hendrickson rubber suspension offered taut handling and firm chassis control. To counter the firm ride that usually results from rubber springing Iveco Ford has fitted the EuroTrakker cab with coil springs and dampers. In addition, both driver and passenger seat are air suspended as standard. The result is an excellent ride, one of the best we have encountered in an eight-legger. We found that the rubber suspension was only caught out by a series of sharp bumps. As regular driver Gary Hughes told us: "You would expect this ride from a sleeper, not a day cab." There are no creaks and groans from the rear bogie either.
The EuroTrakker lacks the front disc brakes of the EuroTech tractive unit but the all-round drums offered powerful and progressive braking.
The exhaust brake added extra control, but we encountered the same problem we have found on other speed-limited vehicles with constant-mesh gearboxes. On long motorway descents, it is impossible to blip the throttle and flick down a ratio to improve exhaust braking if the speed limiter is engaged.
Cab accommodation is good. The Iveco MP day cab scores over smaller cabbed rivals with enough stowage for a bag, documents and the like.
The EuroTrakker has certainly scored a hit with driver Gary Hughes. Apart from the ride comfort, he also likes the spacious cab, torquey engine and tight turning circle. It certainly seems to have a lot to offer from our brief experience. And, with a price tag of £70,579 (ex-VAT), it's competitively priced.
0 Our thanks to Alan Price and driver Gary Hughes for the use of the vehicle and to Iveco Ford dealer RJ Boum,