Island supports
16th February 1995
Page 14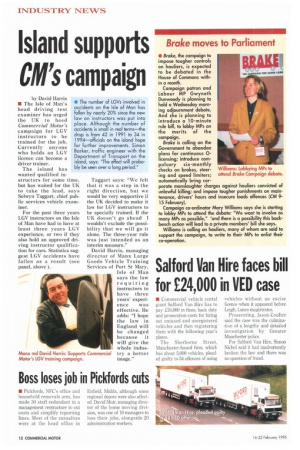 Page 14, 16th February 1995 —
Island supports
Close
CM'S campaign by David Harris • The Isle of Man's head driving test examiner has urged the UK to heed Commercial Motor's campaign for LGV instructors to be trained for the job. Currently anyone who holds an LGV licence can become a driver trainer.
The island has wanted qualified instructors for some time, but has waited for the UK to take the lead, says Selwyn Taggart, chief public services vehicle examiner.
For the past three years LGV instructors on the Isle of Man have had to have at least three years LGV experience, or two if they also hold an approved driving instructor qualification for cars. Statistics suggest LGV accidents have fallen as a result (see panel, above). Taggart says: "We felt that it was a step in the right direction, but we would be very supportive if the UK decided to make it law for LGV instructors to be specially trained. If the UK doesn't go ahead I wouldn't exclude the possibility that we will go it alone. The three-year rule was just intended as an interim measure."
David Harris, managing director of Manx Large Goods Vehicle Training Services of Port St Mary, Isle of Man says the law requiring instructors to have three years' experi ence was effective. He adds: "I hope the law in England will be changed because it will give the whole industry a better image."