Seven Opinions of Passenger Vehicles.
16th February 1911
Page 18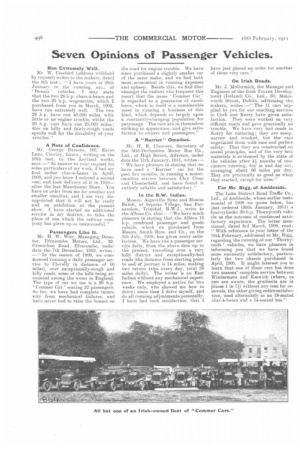 Page 18, 16th February 1911 —
Seven Opinions of Passenger Vehicles.
Close
Run Extremely Well.
Mr. W. Ce.ssford (address withheld by request) writes to the makers, dated the 6th inst -" I have yours of 28th January re the running, etc., of
Dennis ' vehicles. I may state that the two 28 lip. chars-h-bancs and the two 20 h.p. wagonettes, which I purchased from you in March, 1909, have run extremely well. The two 28 h.p. have run 40,000 miles, with little or no engine trouble, whilst the 20 h.p. cars have run 25,000 miles ; this on hilly and fairly-rough roads speaks well for the durability of your vehicles.' ' A Note of Confidence.
Mr. George Parsons, 105, Eaves Lane, Chorley, Lancs., writing on the 10th inst. to the Leyland works, says :—" In answer to your request for some particulars of my work, I had my first motor char-à-banes in April, 7909, and you know I ordered a second one, and took delivery of it in 1910— after the last Manchester Show. You have on order from me for another and smaller omnibus, and I am very disappointed that it will not be ready and on exhibition at the present show. I have started an additional service in my district, to take the place of one which the railway company has given up as unsuccessful."
Passengers Like It.
Mr. II. IV: Wier, Managing Director, Ilfracombe Motors, Ltd., 32, Greenclose Road, Ilfracombe, under date the 7th December, 1910, writes: —" In the season of 1909, we commenced running a daily passenger service to Clovelly (a distance of 66 miles), over exceptionally-rough and hilly roads, some of the hills being accounted among the worst in England. The type of car we use is a 36 h.p.
Commer Car ' seating 22 passengers. So far, we have had complete immunity from mechanical failures, and have never had to raise the bonnet on
the road for engine trouble. We have since purchased a slightly smaller car of the same make, and we find both most economical in running expenses and upkeep. Beside this, we find that amongst the visitors who frequent this resort that the name Conuner Car is regarded as a guarantee of excellence, which in itself is a considerable asset in running a business of this kind, which depends so largely upon a constantly-changing population for patronage. The cars are in themselves striking in appearance, and give satisfaction to owners and passengers."
A "Karrier" Omnibus.
Mr_ H. R. Cleavers, Secretary of the Mid-Derbyshire Motor Bus Co., Ltd., of High Street, Alfreton, under date the 11th January, 1911, writes :— " We have pleasure in stating that we have used a Karrier ' car for the past five months, in running a motoromnibus service between Clay Cross and Chesterfield, and have found it entirely reliable and satisfactory."
In the B.W. Indies.
Messrs. Asgarallie Sync and Hosein Baksh, of Separia Village, San Far
nandom, Trinidad, write to the Albion Co. thus :—"We have much pleasure in stating that the Albion 16 h.p. combined passenger and goods vehicle, which we purchased from Messrs. Smith Bros. and Co., on the 5th July, 1909, has given every satisfaction. We have run a passenger service daily, from the above date up to the present, travelling over a very hilly district and exceptionally-bad roads (the distance from starting point to end of journey is 14 miles, making two return trips every day, total 56 miles daily). The writer is an East Indian without any mechanical experience. We employed a native for two weeks only, who showed me how to drive ; since then I drive myself, and do all running adjustments personally. I have had such satisfaction, that
have just placed an order for another of these very cars."
On Irish Roads.
Mr. J. McCormick, the Manager and Engineer of the Irish Tourist Development (Ireland) Co., Ltd., 30, Molesworth Street, Dublin, addressing the makers, writes;—'' The 11 cars supplied by you for our coaching services in Cork and Kerry have given satisfaction. They were worked on very difficult roads and gave practically no trouble. We have very bad roads in Kerry for motoring ; they are steep, narrow and crooked, but the cars negotiated them with ease and perfect safety. That they are constructed on sound principles, and of the very best materials is evidenced by the state of the vehicles after 4i months of continuous running, day in and day out, averaging about 80 miles per day. They are practically as good as when they started, except for tires."
For Mr. Riggs of Anahleside.
The Lake District Road Traffic Co., Ltd., of Ambleside, whose earlier testimonial of 1908 we quote below, has just ordered (30th January, 1911) a four-cylinder 30-h.p. Thornyeroft vehicle as the outcome of continued satisfactory experience. The letter mentioned, dated 3rd March, 1908, read : "With reference to your letter of the 18th February, addressed to Mr. Rigg, regarding the running of our ' Thornyereft ' vehicles, we have pleasure in informing you that we have found same eminently satisfactory, particularly the two chassis purchased in April, 1906. It might interest you to learn that one of these cars has done two seasons' complete service between Windermere and Keswick (where, as yeti are aware, the gradients are in places 1 in 71) without any cost for renewals, the other giving entire satisfaction, used alternately as an 18-seated char-h-banes and a 14-seated bus."