Out and Home.-By 'The Extractor."
16th February 1911
Page 13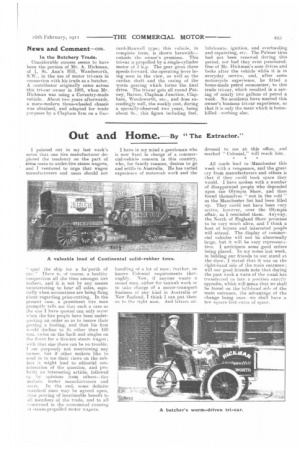 Page 13, 16th February 1911 —
Out and Home.-By 'The Extractor."
Close
I pointed out in my last week's notes that one tire manufacturer deplored the tendency on the part of some users to under-tire steam wagons, and I ventured to urge that wagon manufacturers and users should not
" spoil the ship fur a ha'porth of tire." There is. of course, a healthy competition all the time amongst tire makers, and it is not by any 'means uninteresting to hear all sides, especially when accusations are being flung about regarding price-cutting. In the present case, a prominent tire man promptly tells me that such a case as the one I have quoted can only occur Is hen the tire people have been underquoting an order so as to insure their getting a footing, and that his firm would decline to fit other than 160 nun, twins on the back and singles on the front for a live-ton steam wagon; with that size there can be no trouble. I am purposely not mentioning any names, but if other makers like to send in to me their views on the subject it might lead to editorial consideration of the question, and probably an interesting article, followed up by opinions from others—tire MakerS, motor manufacturers and 'Hers. In the end, some definite ,aandard sizes may be agreed upon, -thus proving of inestimable benefit to ilr members of the trade, and to all coneerned in the economical running at steam-propelled motor wagons.
I have in my mind a gentleman who is now fixed in charge of a commercial-vehicle concern in this country, who, for family Teasons, desires to go and settle in Australia. He has varied experience of motorcab work and the handling of a lot of men ; further, he knows Colonial requirements thoroughly. Now, if anyone wants a sound man, either for taxicab work or to take charge of a inotor-transport business of any kind in Australia or New Zealand, I think I can put then; on to the pieta man. And letters ad dressed to me at this office, and marked " Colonial," will reach him.
All roads lead to 'Manchester this week with a vengeance, and the great cry from manufacturers and others is that if they could book space they would. I have spoken with a number of disappointed people who depended upon the Olympia Show, and then found themselves " out in the cold " as the Manchester list had been filled up. They could not have been very active, however, over the Olympia affair, as I reminded them. Anyway, the North of England Show promises to be very much alive and I think a host of buyers and interested people will attend. The display of commercial vehicles will not be abnormally large, but it will be very representative. I anticipate some good orders being placed. In my notes last week, in bidding our friends to our stand at the show, I stated that it was on the right-hand side of the main entrance; will our good friends note that during the past week a wave of the wand has transferred us into a position exactly opposite which will mean that we shall be found on the left-hand side of the main entrance, the advantage of the change being ours—we shall have a few Willare feet extra of space.