"Threw Cold Water on Appellant's Case"
16th December 1938
Page 38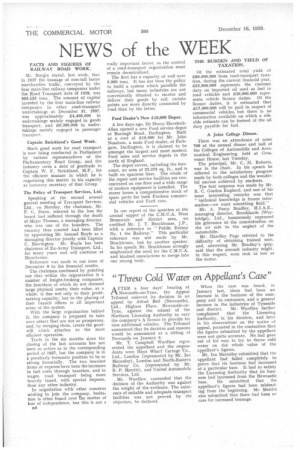 Page 38, 16th December 1938 —
"Threw Cold Water on Appellant's Case"
Close
AFTER a four days' hearing at Newcastle-on-Tyne, the Appeal Tribunal reserved its decision in an appeal by Alfred Bell (Newcastle), Ltd., Higham Place, Newcastle-onTyne, against the refusal of the Northern Licensing Authority to vary the company's A licence to provide for nine additional vehicles. The Tribunal announced that its decision and reasons would be announced at a sitting at Newcastle on January 3.
Mr. T. Campbell Wardlaw represented the appellant and the respondents were Hays Wharf Cartage "Co., Ltd., London (represented by Mr. Ian Macauley), London and North-Eastern Railway Co. (represented by Mr. E. P. Merritt), and United Automobile Services, Ltd.
Mr. Wardlaw contended that the decision of the Authority was against the weight of the evidence. The existence of suitable and adequate transport facilities was not proved by the objectors, he declared.
When the case was heard, in January last, there had been an increase in the business of the company and its customers, and a general increase in the industries of Tyneside
and district. Mr. Wardlaw further complained that the Licensing Authority, in his decision, and later in his observations on the notice of appeal, persisted in the contention that the figures submitted by the appellant were not quite accurate. He had gone out of his way to try to throw cold water on the whole value of the appellant's figures.
Mr. Ian Macauley submitted that the appellant had failed completely to prove that its business had increased at a particular base. It had to satisfy the Licensing Authority that its business had increased from the Newcastle base. He submitted that the appellant's figures had been misleading from the beginning. Mr. Merritt also submitted that there had been Tie case for increased tonnage.