Hauliers pursued to pay for bridge strikes
16th August 2012
Page 6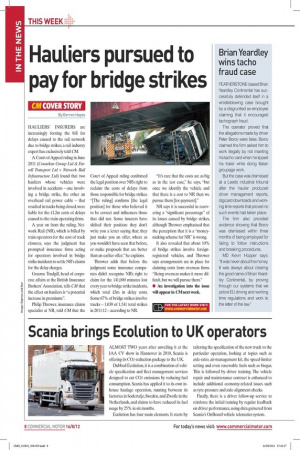 Page 6, 16th August 2012 —
Hauliers pursued to pay for bridge strikes
Close
By Derren Hayes HAULIERS' INSURERS are increasingly footing the bill for delays caused to the rail network due to bridge strikes, a rail industry expert has exclusively told CM.
A Court of Appeal ruling in June 2011 (Conarken Group Ltd & Farrell Transport Ltd v Network Rail Infrastructure Ltd) found that two hauliers whose vehicles were involved in accidents – one involving a bridge strike, the other an overhead rail power cable – that resulted in tracks being closed, were liable for the £1.2m costs of delays caused to the train operating irms.
A year on from the ruling, Network Rail (NR), which is billed by train operators for the cost of track closures, says the judgment has prompted insurance irms acting for operators involved in bridge strike incidents to settle NR's claims for the delay charges.
Graeme Trudgill, head of corporate affairs at the British Insurance Brokers' Association, tells CM that the effect on hauliers is "a potential increase in premiums".
Philip Thrower, insurance claims specialist at NR, told CM that the Court of Appeal ruling conirmed the legal position over NR's right to reclaim the costs of delays from those responsible for bridge strikes. "[The ruling] conirms [the legal position] for those who believed it to be correct and inluences those that did not. Some insurers have shifted their position: they don't write you a letter saying that; they just make you an offer, where as you wouldn't have seen that before, or make proposals that are better than an earlier offer," he explains.
Thrower adds that before the judgment some insurance companies didn't recognise NR's right to claim for the 141,000 minutes lost every year to bridge strike incidents, which total £5m in delay costs. Some 67% of bridge strikes involve trucks – 1,039 of 1,541 total strikes in 2011-12 – according to NR. "It's rare that the costs are as big as in the test case," he says, "but once we identify the vehicle and that there is a cost to NR then we pursue them [for payment]." NR says it is successful in recovering a "signiicant percentage" of its losses caused by bridge strikes, although Thrower emphasised that the perception that it is a "moneymaking scheme for NR" is wrong.
It also revealed that about 10% of bridge strikes involve foreignregistered vehicles, and Thrower says arrangements are in place for claiming costs from overseas irms. "Being overseas makes it more dificult, but we will pursue them." ● An investigation into the issue will appear in CM next week.