Beware of flood damaged vans
16th August 2012
Page 41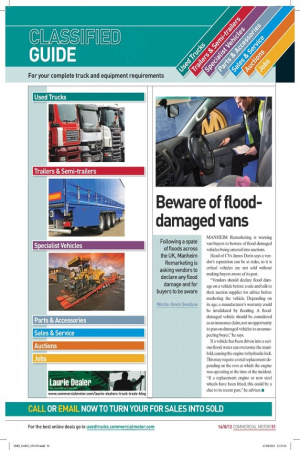 Page 41, 16th August 2012 —
Beware of flood damaged vans
Close
Following a spate of floods across the UK, Manheim Remarketing is asking vendors to declare any flood damage and for buyers to be aware
Words: Kevin Swallow
MANHEIM Remarketing is warning van buyers to beware of lood-damaged vehicles being entered into auctions.
Head of CVs James Davis says a vendor's reputation can be at stake, so it is critical vehicles are not sold without making buyers aware of its past.
"Vendors should declare lood damage on a vehicle before a sale and talk to their auction supplier for advice before marketing the vehicle. Depending on its age, a manufacturer's warranty could be invalidated by looding. A looddamaged vehicle should be considered as an insurance claim, not an opportunity to pass on damaged vehicles to an unsuspecting buyer," he says.
If a vehicle has been driven into a serious lood, water can overcome the manifold, causing the engine to hydraulic lock. This may require a total replacement depending on the revs at which the engine was operating at the time of the incident. "If a replacement engine or new steel wheels have been itted, this could be a clue to its recent past," he advises. ■