Industry owed gold for Olympic planning
16th August 2012
Page 4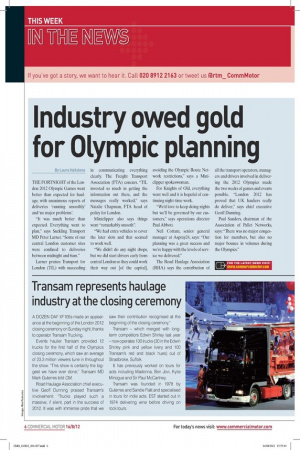 Page 4, 16th August 2012 —
Industry owed gold for Olympic planning
Close
By Laura Hailstone THE FORTNIGHT of the London 2012 Olympic Games went better than expected for haulage, with unanimous reports of deliveries 'running smoothly' and 'no major problems'.
"It was much better than expected. Everything went to plan," says Suckling Transport MD Peter Larner. "Some of our central London customer sites were confned to deliveries between midnight and 6am." Larner praises Transport for London (TfL) with succeeding in communicating everything clearly. The Freight Transport Association (FTA) concurs. "TfL invested so much in getting the information out there, and the messages really worked," says Natalie Chapman, FTA head of policy for London.
Miniclipper also says things went "remarkably smooth" .
"We had extra vehicles to cover the later slots and that seemed to work well.
"We didn't do any night drops, but we did start drivers early from central London so they could work their way out [of the capital], avoiding the Olympic Route Network restrictions," says a Miniclipper spokeswoman.
For Knights of Old, everything went well and it is hopeful of continuing night-time work.
"We'd love to keep doing nights but we'll be governed by our customers," says operations director Paul Abbott.
Neil Cottam, senior general manager at Aspray24, says: "Our planning was a great success and we're happy with the levels of service we delivered." The Road Haulage Association (RHA) says the contribution of all the transport operators, managers and drivers involved in delivering the 2012 Olympics made the two weeks of games and events possible. "London 2012 has proved that UK hauliers really do deliver," says chief executive Geoff Dunning.
Paul Sanders, chairman of the Association of Pallet Networks, says: "There was no major congestion for members, but also no major bounce in volumes during the Olympics."