A green business
16th August 2012
Page 21
Page 23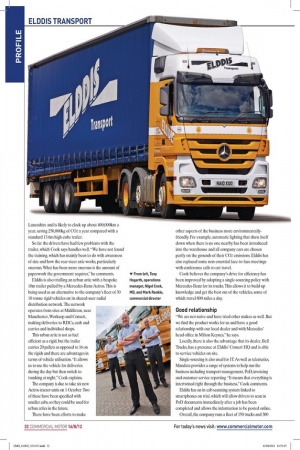 Page 24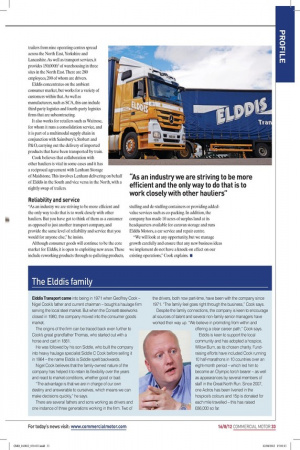 Page 21, 16th August 2012 —
A green business
Close
CM meets Elddis Transport MD Nigel Cook to discuss the company's environmentally friendly policies
Words: Simon Jack / Images: Tom Cunningham Some firms see environmental policies as a
burden on the business, but for Elddis Transport MD Nigel Cook (pictured right) they are a central plank of the irm's drive for eficiency. "In a transport business, costs and environmental policies are linked. Our biggest cost is fuel, so the proit of the business can be focused on reducing consumption," he says.
The Consett-based company has introduced a number of green initiatives, both in the leet and the warehouse, helping it to gain its second successive Environment Award from the UK Warehousing Association.
One of its improvements has been to employ vehicle accessories irm Kuda UK to create a bespoke roof spoiler for part of its leet. Many of Elddis Transport's customers are in the ambient consumer market – including SCA Hygiene, which manufactures the Velvet toilet roll brand – and require trailers that can carry low-weight, bulky items.
For this reason, Elddis uses a number of taller, 4.7m-high trailers, and wanted a spoiler that would make the cab of the truck the same height and these are now used on 12 of its vehicles. The company has also experimented with other combinations of spoilers and cab heights to improve aerodynamics, as well as other fuel-saving measures, including running the leet at an optimum speed of 52mph instead of 56mph. The drivers also play a key part in the company's efforts and their performance is analysed by a telematics system from Mandata.
"It could be that if a vehicle has been idling for 10 minutes it was stuck in trafic on the M1 but, alternatively, it might be because a driver has been trying to warm up the vehicle while sitting in a depot," he explains.
Training and education
The company favours training and education rather than disciplinary action to gain improvements, and Cook says that the drivers, who beneit inancially from the improvements, are fully behind its efforts. "We share information about performance with them to get them to buy into what we are doing," he says.
Cook hopes that eficiency will be improved by the use of longer semi-trailers, and it is taking on two 15.65m trailers – the irst of which is already in use – and nine 14.6m trailers from Lawrence David. These were due for delivery at the end of July.
The irst 15.65m trailer is being used for trunking movements on Elddis's contract with SCA and has been on the road since May. The company believes it is the largest trailer in Europe with a capacity to carry 90 pallets on a single load. It is running between the North East and
Lancashire and is likely to clock up about 400,000km a year, saving 250,000kg of CO2 a year compared with a standard 13.6m high-cube trailer.
So far the drivers have had few problems with the trailer, which Cook says handles well. "We have not found the training, which has mainly been to do with awareness of size and how the rear-steer axle works, particularly onerous. What has been more onerous is the amount of paperwork the government requires," he comments.
Elddis is also trialling an urban artic with a bespoke 10m trailer pulled by a Mercedes-Benz Actros. This is being used as an alternative to the company's leet of 30 18-tonne rigid vehicles on its shared-user radial distribution network. The network operates from sites at Middleton, near Manchester, Worksop and Consett, making deliveries to RDCs, cash and carries and individual shops.
This urban artic is not as fuel eficient as a rigid, but the trailer carries 20 pallets as opposed to 16 on the rigids and there are advantages in terms of vehicle utilisation. "It allows us to use the vehicle for deliveries during the day but then switch to trunking at night," Cook explains.
The company is due to take six new Actros tractor units on 1 October. Two of these have been speciied with smaller cabs, so they could be used for urban artics in the future.
other aspects of the business more environmentallyfriendly. For example, automatic lighting that shuts itself down when there is no one nearby has been introduced into the warehouse and all company cars are chosen partly on the grounds of their CO2 emissions. Elddis has also replaced some non-essential face-to-face meetings with conference calls to cut travel.
Cook believes the company's drive for eficiency has been improved by adopting a single-sourcing policy with Mercedes-Benz for its trucks. This allows it to build up knowledge and get the best out of the vehicles, some of which travel 800 miles a day.
Good relationship
"We are not naive and have tried other makes as well. But we ind the product works for us and have a good relationship with our local dealer and with Mercedes' head ofice in Milton Keynes," he says.
Locally, there is also the advantage that its dealer, Bell Trucks, has a presence at Elddis' Consett HQ and is able to service vehicles on site.
Single-sourcing is also used for IT. As well as telematics, Mandata provides a range of systems to help run the business including transport management, PoD, invoicing and customer service reporting. "It means that everything is intertwined right through the business," Cook comments.
Elddis has an in-cab scanning system linked to smartphones on trial, which will allow drivers to scan in PoD documents immediately after a job has been completed and allows the information to be posted online.
Overall, the company runs a leet of 150 trucks and 300
trailers from nine operating centres spread across the North East, Yorkshire and Lancashire. As well as transport services, it provides 150,000ft2 of warehousing in three sites in the North East. There are 280 employees, 200 of whom are drivers.
Elddis concentrates on the ambient consumer market, but works for a variety of customers within that. As well as manufacturers, such as SCA, this can include third-party logistics and fourth-party logistics irms that are subcontracting.
It also works for retailers such as Waitrose, for whom it runs a consolidation service, and it is part of a multimodal supply chain in conjunction with Sainsbury's, Stobart and P&O, carrying out the delivery of imported products that have been transported by train.
Cook believes that collaboration with other hauliers is vital in some cases and it has a reciprocal agreement with Lenham Storage of Maidstone. This involves Lenham delivering on behalf of Elddis in the South and vice versa in the North, with a nightly swap of trailers.
Reliability and service
"As an industry we are striving to be more eficient and the only way to do that is to work closely with other hauliers. But you have got to think of them as a customer as opposed to just another transport company, and provide the same level of reliability and service that you would for anyone else," he insists.
Although consumer goods will continue to be the core market for Elddis, it is open to exploiting new areas. These include reworking products through re-palleting products, stufing and de-stufing containers or providing addedvalue services such as co-packing. In addition, the company has made 10 acres of surplus land at its headquarters available for caravan storage and runs Elddis Motors, a car service and repair centre.
"We will look at any opportunity, but we manage growth carefully and ensure that any new business ideas we implement do not have a knock-on effect on our existing operations," Cook explains. ■
The Elddis family
Elddis Transport came into being in 1971 when Geoffrey Cook – Nigel Cook's father and current chairman – bought a haulage firm serving the local steel market. But when the Consett steelworks closed in 1980, the company moved into the consumer goods market.
The origins of the firm can be traced back even further to Cook's great grandfather Thomas, who started out with a horse and cart in 1881.
He was followed by his son Siddle, who built the company into heavy haulage specialist Siddle C Cook before selling it in 1964 – the name Elddis is Siddle spelt backwards.
Nigel Cook believes that the family-owned nature of the company has helped it to retain its flexibility over the years and react to market conditions, whether good or bad.
"The advantage is that we are in charge of our own destiny and answerable to ourselves, which means we can make decisions quickly," he says.
There are several fathers and sons working as drivers and one instance of three generations working in the firm. Two of the drivers, both now part-time, have been with the company since 1971. "The family feel goes right through the business," Cook says.
Despite the family connections, the company is keen to encourage all sources of talent and several non-family senior managers have worked their way up. "We believe in promoting from within and offering a clear career path," Cook says.
Elddis is keen to support the local community and has adopted a hospice, Willow Burn, as its chosen charity. Fundraising efforts have included Cook running 10 half-marathons in 10 countries over an eight-month period – which led him to become an Olympic torch bearer – as well as appearances by several members of staff in the Great North Run. Since 2007, one Actros has been liveried in the hospice's colours and 15p is donated for each mile travelled – this has raised £86,000 so far.