Waste watchers
16th August 2012
Page 19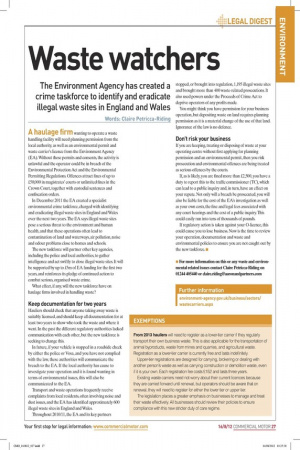 Page 19, 16th August 2012 —
Waste watchers
Close
The Environment Agency has created a crime taskforce to identify and eradicate illegal waste sites in England and Wales
Words: Claire Petricca-Riding
Ahaulage firm wanting to operate a waste handling facility will need planning permission from the local authority, as well as an environmental permit and waste carrier's licence from the Environment Agency (EA). Without these permits and consents, the activity is unlawful and the operator could be in breach of the Environmental Protection Act and the Environmental Permitting Regulations. Offences attract ines of up to £50,000 in magistrates' courts or unlimited ines in the Crown Court, together with custodial sentences and coniscation orders.
In December 2011 the EA created a specialist environmental crime taskforce, charged with identifying and eradicating illegal waste sites in England and Wales over the next two years. The EA says illegal waste sites pose a serious threat to the environment and human health, and that these operations often lead to contamination of land and waterways, air pollution, noise and odour problems close to homes and schools.
The new taskforce will partner other key agencies, including the police and local authorities, to gather intelligence and act swiftly to close illegal waste sites. It will be supported by up to £5m of EA funding for the irst two years, and reinforces its pledge of continued action to combat serious, organised waste crime.
What effect, if any, will the new taskforce have on haulage irms involved in handling waste?
Keep documentation for two years
Hauliers should check that anyone taking away waste is suitably licensed, and should keep all documentation for at least two years to show who took the waste and where it went. In the past the different regulatory authorities lacked communication with each other, but the new taskforce is seeking to change this.
In future, if your vehicle is stopped in a roadside check by either the police or Vosa, and you have not complied with the law, these authorities will communicate the breach to the EA. If the local authority has cause to investigate your operation and it is found wanting in terms of environmental issues, this will also be communicated to the EA.
Transport and waste operations frequently receive complaints from local residents, often involving noise and dust issues, and the EA has identiied approximately 600 illegal waste sites in England and Wales.
Throughout 2010/11, the EA and its key partners stopped, or brought into regulation, 1,195 illegal waste sites and brought more than 400 waste-related prosecutions. It also used powers under the Proceeds of Crime Act to deprive operators of any proits made.
You might think you have permission for your business operation, but depositing waste on land requires planning permission as it is a material change of the use of that land. Ignorance of the law is no defence.
Don't risk your business
If you are keeping, treating or disposing of waste at your operating centre without irst applying for planning permission and an environmental permit, then you risk prosecution and environmental offences are being treated as serious offences by the courts.
If, as is likely, you are ined more than £2,500, you have a duty to report this to the trafic commissioner (TC), which can lead to a public inquiry and, in turn, have an effect on your repute. Not only will a breach be prosecuted, you will also be liable for the cost of the EA's investigation as well as your own costs, the ine and legal fees associated with any court hearings and the cost of a public inquiry. This could easily run into tens of thousands of pounds.
If regulatory action is taken against your O-licence, this could cause you to lose business. Now is the time to review your operation, documentation and waste and environmental policies to ensure you are not caught out by the new taskforce. ■
• For more information on this or any waste and environmental related issues contact Claire Petricca-Riding on 01244 405440 or claire.riding@aaronandpartners.com
Further information
environment-agency.gov.uk/business/sectors/ wastecarriers.aspx
EXEMPTIONS
From 2013 hauliers will need to register as a lower-tier carrier if they regularly transport their own business waste. This is also applicable for the transportation of animal byproducts, waste from mines and quarries, and agricultural waste. Registration as a lower-tier carrier is currently free and lasts indefinitely.
Upper-tier registrations are designed for carrying, brokering or dealing with another person's waste as well as carrying construction or demolition waste, even if it is your own. Each registration fee costs £152 and lasts three years.
Existing waste carriers need not worry about their current licences because they are carried forward until renewal, but operators should be aware that on renewal, they will need to register for either the lower tier or upper tier.
The legislation places a greater emphasis on businesses to manage and treat their waste effectively. All businesses should review their policies to ensure compliance with this new stricter duty of care regime.