Municipal Purchases and Proposals
16th August 1932
Page 42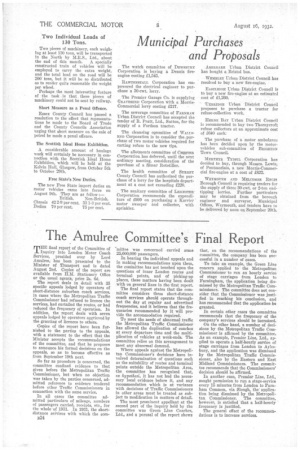 Page 42, 16th August 1932 —
Municipal Purchases and Proposals
Close
• The watch committee of DEWSBURY Corporation is buying a Dennis fireengine costing £1,545.
RAWTENSTALL Corporation has empowered the electrical engineer to purchase a 30-cwt. lorry.
The Premier Garage Co. is supplying GRAVESEND Corporation with a MorrisCommercial lorry costing £217.
The sewerage committee of FARNHAM Urban District Council has accepted the tender of R. Pratt, Ltd., Sutton, for the supply of a Fordson tractor.
The cleansing committee of WatssEND Corporation is to consider the purchase of two motor vehicles required for carting refuse to the new tips.
The allotments committee of Cnysessa Corporation has deferred, until the next ordinary meeting, consideration of the purchase of a imar Rototiller.
The health committee of SURREY County Council has authorized the purchase of a lorry for the hospitals department at a cost not exceeding £220.
The sanitary committee of LEICESTER' Corporation recommends the expenditure of 1999 on purchasing a Karrier motor sweeper and collector, with sprinkler. ABERDARE Urban District Council has bought a Bristol bus.
Wesuises Urban District Council has resolved to buy a new fire-engine.
Essmszeu Urban District Council is to buy a new fire-engine at an estimated cost of £1,260.
'UXBRIDGE Urban District Council proposes to purchase a tractor for refuse-collection work.
BEENE BAY Urban District Council is recommended to buy two Thornycroft refuse collectors at an approximate cost of 1640 each.
The purchase of a motor ambulance has been decided upon by the motorvehicles sub-committee of BRIGHTON Town CounciL MERTHYR TYDFIL Corporation has decided to buy, through Messrs. Lewis, of Pontmorlais, a new Morris-Commercial fire-engine at a cost of 1822.
WEYMOUTH AND MELCOMBE REGIS Borough Council is requiring tenders for the supply of three 30-cwt. or 2-ton endtipping lorries. Further particulars may be obtained from the borough engineer and surveyor, Municipal Offices, Weymouth, and tenders have to be delivered by noon on September 20th.