"The Cork Factory Project."
16th August 1917
Page 2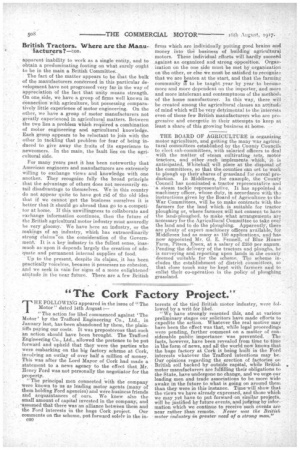 Page 2, 16th August 1917 —
"The Cork Factory Project."
Close
THE FOLLOWING appeared in the issue of "The Motor" dated 14th August :— " The action for libel commenced against 'The Motor' by the Trafford Engineering Co., Ltd., in January last, has been abandoned by them, the plaintiffs paying our costs. It was preposterous that-such an action should have been brought. The Trafford Engineering Co., Ltd.' allowed the pretence to be put forward and upheld that they were the parties who were embarking on the big factory scheme at Cork, involving an outlay of over half a million of money. This was after the Lord Mayor of Cork had made a statement to a news agency to the effect that Mr. Henry Ford was not personally the negotiator for the property_ " The principal men connected with the company *ere known to us as leading motor agents (many of them holding Ford agencies) and were business friends and acquaintances of ours. We knew also the small amount of capital invested in the company, and -assumed that there was an alliance between them and the Ford interests in the huge Cork project. Our comments on the scheme, put forward solely in the in 020 terests of the tied British motor industry, were followed by a writ fOr libel. "We have strongly resented this, and at various preliminary stages our solicitors have made efforts to expedite the action. Whatever the real motive may have been the effect was that, while legal proceedings were pending, further comment on a matter of considerable public importance was prevented. The facts, however, have been revealed from time to time in %he form of news, and all the world now knows that the huge factory at Cork is being built in the Ford interests whatever the Trafford intentions may be. Our opinions regarding the erection of factories on British soil backed by outside capital, while British motor manufacturers are fulfilling their obligations to the State, have undergone no change, and we urge our leading men and trade associations to be more wide i awake n the future to what is going on around them than they were in this instance. Time-will show that the views we have already expressed, and those which we may yet have to put forward on similar projects, will be justified by future events, and judging by information which we continue to receive such events; are near rather than remote. Never was the Britis/. motor industry in greater need of a strong man."