Experts Answer Technical Questions rt A NUMBER of technical questions of
16th April 1954
Page 53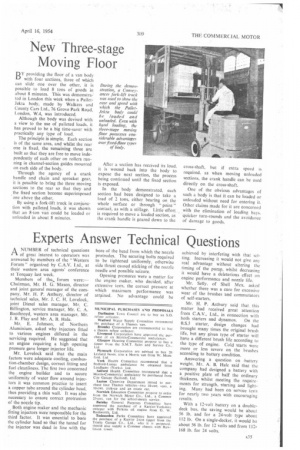 Page 53, 16th April 1954 —
Experts Answer Technical Questions rt A NUMBER of technical questions of
Close
great interest to operators was answered by members of the "Western Forum organized by C.A.V. Ltd., at their western area agents' conference at Torquay last week.
Members of the., forum were:— Chairman, Mr. H. G. 'Mason, director and joint general manager of the company, Mr. H. P. Astbury, director of technical sales, Mr. J. C. H. Lovelock, joint Diesel sales manager, Mr. C. Billington, service manager, Mr. C. A. Boo throyd, western area manager, Mr. J. R. Flay and Mr. A. B. Hale.
Mr. E. Johnson, of Northern Aluminium, asked why injectors fitted to various engines differed in the servicing required. He suggested that an engine requiring a high opening pressure gave longer injector life.
Mr. Lovelock said that the main factors were adequate cooling, combustion-chamber design, correct fitting and fuel cleanliness. The first two concerned the engine builder and to secure uniformity of water flow around injectors it was common practice to insert a copper tube around the cylinder head, thus providing a thin wall. It was also necessary to ensure correct protrusion of the nozzle tip.
Both engine maker and the mechanic fitting injectors were responsible for the third factor. It was essential to bore the cylinder head so that the tunnel for the injector was dead in line with the bore of the head from which the nozzle protrudes. The securing bolts required to be tightened uniformly, otherwise side thrust caused sticking of the nozzle needle and possible seizure.
Opening pressures were a matter for the engine maker, who decided, after extensive tests, the correct pressure at which maximum performance was at tined. No advantage could be achieved by interfering with that setting. Increasing it would not give any real advantage without altering the timing of the pump, whilst decreasing it would have a deleterious effect on engine performance and nozzle life.
Mr. Selly, of Shell Mex, asked whether there was a cure for excessive wear of the brushes and commutators of self-starters.
Mr. H. P. Astbury said that, this matter had received great attention from C.A.V., Ltd.. in connection with both starters and dynamos. On the B.S.5 starter, design changes had brought many times the original brush life, but any given type of starter will have a different brush life according to the type of engine. Cold starts were more or less severe on the brushes according to battery condition.
Answering a question on battery weight, Mr. A. B. Hale said that the company had designed a battery with a positive plate of half the ordinary thickness, whilst meeting the requirements for strength, starting and lighting. Many had been on service tests for nearly two years with encouraging results.
With a 12-volt battery on a doubledeck bus, the saving would be about 56 lb. and for a 24-volt type about 112 lb. On a single-decker, it would be about 56 lb. for 12 volts and from 112168 lb. for 24 volts.