Barton and
16th April 1954
Page 50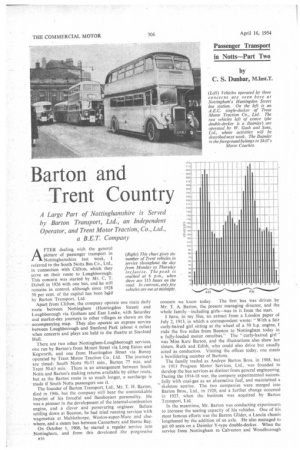 Page 51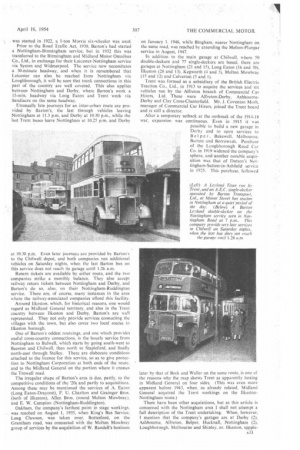 Page 52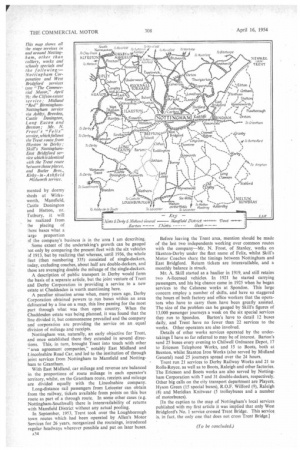 Page 50, 16th April 1954 —
Barton and
Close
Trent Country
A Large Part of Nottinghamshire is Served by Barton Transport, Ltd., an Independent Operator, and Trent Motor Traction, Co., Ltd., a B.E.T. Company
by
C. S. Dunbar, M.Inst.T.
AFTER dealing with the general picture of passenger transport in Nottinghamshire last week, 1 referred to the South Notts Bus Co., Ltd., in connection with Clifton, which they serve on their route to Loughborough. This concern was started by Mr. C. T. Dabell in 1926 with one bus, and he still remains in control, although since 1928 50 per cent. of the capital has been held by Barton Transport, Ltd. Apart from Clifton, the company operate one main daily route between Nottingham (Huntingdon Street) and Loughborough via Gotham and East Leake, with Saturday and market-day journeys to other villages as shown on the accompanying map. They also operate an express service between Loughborough and Stanford Park (about 4. miles) when concerts and plays are held in the theatre at Stanford Hall,
There are two other Nottingham-Loughborough services, one run by Barton's from Mount Street via Long Eaton and Kegworth, and one from Huntingdon Street via Bunny operated by Trent Motor Traction Co., Ltd. The journeys are timed: South Notts 50-55 min., Barton 77 min. and Trent 50-63 min. There is an arrangement between South Notts and Barton's making returns available by either route, but as the Barton route is so much longer, a surcharge is made if South Notts passengers use it.
The founder of Barton Transport, Ltd., Mr. T. H. Barton, died in 1946, but the company still bear the unmistakable imprint of his forceful and flamboyant personality. He was a pioneer in the development of the internal-combustion engine, and a clever and persevering engineer. Before settling down at Beeston, he had tried running services with wagonettes at Mablethorpe, Weston-super-Mare and elsewhere, and a steam bus between Canterbury and Herne Bay.
On October 1. 1908, he started a regular service into Nottingham, and from this developed .the progressive concern we know today. The first bus was driven by Mr. T. A. Barton, the present managing director, and the whole family—including girls—was in it from the start.
I have, in my files, an extract from a London paper of July 2, 1913, in which a correspondent wrote: With a fair curly-haired girl sitting at the wheel of a 50 h.p. engine, I rode the five miles from Beeston to Nottingham today in a fully-loaded motor omnibus." The "curly-haired girl" was 'Miss Kate Barton, and the illustrations also show her sisters, Ruth and Edith, who could also drive but usually acted as conductors. Visiting the offices today, one meets a bewildering number of Bartons.
The family traded as Andrew Barton Bros. in 1908, but in 1913 Progress Motor Services. Ltd., was founded to develop the bus services as distinct from general engineering. During the 1914-18 war, the company experimented successfully with coal-gas as an alternative fuel, and maintained a skeleton service. The two companies were merged into Barton Bros., Ltd., in 1920, and a further change occurred in 1927, when the business was acquired by Barton Transport, Ltd.
In the meantime, Mr. Barton was conducting experiments to increase the seating capacity of his vehicles. One of his most famous efforts was the Barton Glider, a Lancia chassis lengthened by the addition of an axle. He also managed to get 60 seats on a Daimler Y-type double-decker. When the service from Nottingham to Calveston and Woodborough
was started in 1922, a I-ton Morris six-wheeler was used.
Prior to the Road Traffic Act, 1930. Barton's had started a Nottingham-Birmingham service, but in 1932 this was transferred to the Birmingham and Midland Motor Omnibus Co., Ltd., in exchange for their Leicester-Nottingham service via Syston and Widmerpool. The service now necessitates a 30-minute headway, and when it is remembered that Leicester can also be reached from Nottingham via Loughborough, it will be seen that trunk connections in this part of the country are well covered. This also applies between Nottingham and Derby, where Barton's work a 15-min. headway via Long Eaton and Trent work via Sandiacre on the same headway.
Unusually late journeys for an inter-urban route are provided by Barton's, the last through vehicles leaving Nottingham at 11.3 p.m. and Derby at 10.30 p.m., while the last Trent buses leave Nottingham at 10.25 p.m. and Derby at 10.30 p.m. Even later journeys are provided by Barton's to the Chilwell depot, and both companies run additional vehicles on Saturday nights, when the last Barton bus on this service does not reach its garage until 1.26 a.m.
Return tickets are available by either route, and the two companie3 strike a monthly balance. They also accept railway return tickets between Nottingham and Derby, and Barton's do so, also, on their Nottingham-Ruddington service. There are, of course, many instances in the area where the railway-associated companies afford this facility.
Around Ilkeston. which, for historical reasons, one would regard as Midland General territory, and also in the Trent country between Ilkeston and Derby, Barton's are well represented. They not only provide services connecting the villages with the town, but also cover two local routes in Ilkeston borough.
One of Barton's oddest routeings, and one which provides useful cross-country connections, is the hourly service from Nottingham to Bulvvell, which starts by going south-west to Beeston and Chilwell, then north to Stapleford, and finally north-east through 'Stelley. There are elaborate conditions attached to the licence for this service, so as to give protection to Nottingham Corporation at both ends of the route. and to the Midland General on the portion where it crosses the Trowell road.
The irregular shape of Barton's area is due, partly, to the competitive conditions of the '20s and partly to acquisitions. Among these may be mentioned the services of A. Eaton (Long Eaton-Draycott), F. U. Charlton and Grainger Bros. (both of Ilkeston), Allen Bros. (round Melton Mowbray), and E. W. Campion (Nottingham-Ruddington).
Qakham, the company's farthest point in stage workings, was reached on August 1. 1935, when King's Bus Service, Long Clawson, was taken over. Bottesford, on the Grantham road, was connected with the Melton Mowbray group of services by the acquisition of W. Randell's business on January 1, 1946, while Bingham, nearer Nottingham on the same road, was reached by extending the IVIelton-Plungar service in August, 1947.
In addition to the main garage at Chilwell, where 50 double-deckers and 77 single-deckers are based, there are garages at Nottingham (21 and 15), Long Eaton (16 and 30), Ilkeston (28 and 13), Kegworth (4 and 3), Melton Mowbray (15 and 12) and Calverton (5 and
Trent was formed as a subsidiary of the'British Electric Traction Co., Ltd., in 1913 to acquire the services and six vehicles run by the Alfreton branch of Commercial Car Hirers, ltd. These • were Alf reton-Derby, Ashbou meDerby and Clay Cross-Chesterfield, Mr. J. Coventon Moth, manager of Commercial Car Hirers, joined the Trent board and is still a director.
After a temporary setback at the outbreak of the 1914-18
war, expansion was continuous. Even in 1915 it was possible to build a new garage in Derby and to open services lo Bel per, Bakewell, Melbourne. Burton and Borrowash. Purchase of the Leughborough Road Car Co. in 1919 widened the company's sphere, and another notable acquisition was that of Dutton's Nottingham-Sutton-in-Ashfield service in 1925. This purchase, followed
later by that of Beck and Waller on the same route, is one of the reasons why the map shows Trent as apparently boxing in Midland General on four sides. (This was even more apparent before 1943, when, as already related, Midland General acquired the Trent workings on the IlkestonNottingham route.) There have been other acquisitions, but as this article is concerned with the Nottingham area I shall not attempt a full description of the Trent undertaking. When, however, I mention that the company's garages are at Derby (2). Ashbourne, Alfreton, Belper. Hucknall, Nottingham (2), Loughborough. Melbourne and Shipley. nr. Ilkeston. supple
Breedon To Ashbrde.to Torch
mented by dormy sheds at Wirksworth, Mansfield, Castle Donington and Hatton, nr. Tutbury, it will be realized from he placing of .hese bases what a arge proportion Df the company's business is in the area I am describing.
Sonic extent of the undertaking's growth can be gauged lot only by comparing the present fleet with the six vehicles Df 1913, but by realizing that whereas, until 1936, the whole lieet (then numbering 335) consisted of single-deckers, today, excluding coaches, about half are double-deckers, and these are averaging double the mileage of the single-deckers.
A description of public transport in Derby would form the basis of a separate article, but the joint venture of Trent and Derby Corporation in providing a service to a new estate at Chaddesden is worth mentioning here.
A peculiar situation arose when, many years ago, Derby Corporation obtained powers to run buses within an area delineated by a line on a map, this line passing for the most part through what was then open country. When the Chaddesden estate was being planned, it was found that the line divided it, but commonsense prevailed and the company and corporation arc providing the service on an equal division of mileage and receipts.
Nottingham was, naturally, an early objective for Trent, and once established there they extended in several directions. This, in turn, brought Trent into touch with other "area agreement companies," notably East Midland and Lincolnshire Road Car, and led to the institution of through joint services from Nottingham to Mansfield and Nottingham to Grantham.
With East Midland, car mileage and revenue are balanced in the proportions of route mileage in each operator's territory, whilst, on the Grantham route, receipts and mileage are divided equally with the Lincolnshire company.
Long-distance rail passengers from Leicester can obtain from the railway, tickets available from points on this bus route as part of a through route. In some other cases (e.g. Nottingham-Southwell) there is interavailability of returns with Mansfield District without any actual pooling.
In September, 1953, Trent took over the Loughborough town routes which had been operated by Allen's Motor Services for 26 years, reorganized the routeings, introduced regular hcadways wherever possible and put on later buses. Before leaving the Trent area, mention should be made of the last two independents working over common routes with the company—Mr. N. Frost, of Stanley, works on Ilkeston-Derby under the fleet name of Felix, whilst Skill's Motor Coaches share the timings between Nottingham and East Bridgford. Return tickets are interavailable, and a monthly balance is struck.
Mr. A. Skill started as a haulier in 1919, and still retains two A-licensed vehicles. In 1921 he started carrying passengers, and his big chance came in 1925 when he began services to the Celanese works at Spondon. This large concern employ a number of shifts, and have so staggered the hours of both factory and office workers that the operators who have to carry them have been greatly assisted. 'The size of the problem can be gauged by Skill's figures of 13,000 passenger journeys a week on the six special services they run to Spondon. Barton's have to detail 12 buses daily, and Trent have no fewer than 22 services to the works. Other operators are also involved.
Details of other works services operated by the undertakings I have so far referred to may be of interest. Barton's send 25 buses every evening to Chilwell Ordnance Depot, 17 to Ericsson Telephone Works, and 15 to Boots, both at Beeston, whilst Stanton Iron Works (also served by Midland General) need 25 journeys spread over the 24 hours.
Trent run 21 services to Derby Railway Works and 21 to Rolls-Royce, as well as to Boots, Raleigh and other factories. The Ericsson and Boots works are also served by Nottingham Corporation with 7 and 31 double-deckers, respectively. Other big calls on the city transport department are Players, Hyson Green (15 special buses), R.O.F. Wilford (9), Raleigh (8) and Meridian Knitwear (5 trolleybuses and a number of motorbuses).
[In the caption to the map of Nottingham's local services published with my first article it was implied that only West Bridgford's No. 1 service crossed Trent Bridge. This service is. in fact, the only one that does not cross Trent Bridge.]
(To be concluded.)
Tags
People
:
Clay Cross-Chesterfield
,
C. T. Dabell
,
Kate Barton
,
N. Frost
,
Stanford Park
,
Hyson Green
,
Loughborough Park
,
Car Hirers
,
Ruth
,
J. Coventon Moth
,
Edith
,
A. Skill