Big Developments in Plastic Bodies
16th April 1954
Page 41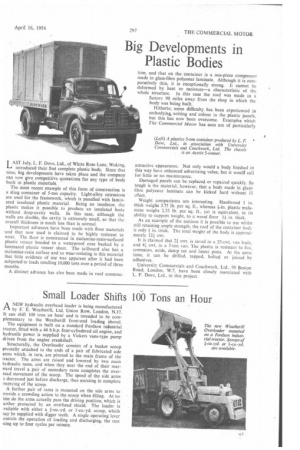 Page 41, 16th April 1954 —
Big Developments in Plastic Bodies
Close
LAST July, L. F. Dove, Ltd., of White Rose Lane, Woking, introduced their first complete plastic body. Since that time, big developments have taken place and the company can now give competitive quotations for any type of body built in plastic materials.
The most recent example of this form of construction is a sling container of 5-ton capacity. Light-alloy extrusions are used for the framework, which is panelled with laminated insulated plastic material. Being an insulator, the plastic makes it possible to produce an insulated body without deep-cavity walls. In this case, although the walls are double, the cavity is extremely small, so that the overall thickness is much less than is normal.
Important advances have been made with floor materials and that now used is claimed to bc highly resistant to wear. The floor is constructed in malamine-resin-surfaced plastic veneer bonded to a waterproof core backed by a laminated plastic veneer sheet. The tailboard also has a malamine-resin surface and so wear-resisting is this material that little evidence of use was apparent after it had been subjected to loads totalling 10,000 tons over a period of three months.
A distinct advance has also been made in roof construe
lion, and that on the container is a one-piece component made in glass-fibre polyester laminate. Although it is comparatively thin, it is exceptionally strong. It cannot be deformed by heat or moisture—a characteristic of the whole structure. In this case the roof was made in a factory 90 miles away from the shop in which the body was being built.
Hitherto, some difficulty, has been experienced in embodying, writing and colour in the plastic panels, but this has now been overcome. Examples which The Commercial Motor has seen are of particularly
attractive appearance. Not only would a body finished in this way have enhanced advertising value, but it would call for little or no maintenance.
Damaged panels can be replaced or repaired quickly. So tough is the material, however, that a body made in glassfibre polyester laminate can be kicked hard without ill effect.
Weight comparisons are interesting. Hardwood 1 in.
thick weighs 3.75 lb. per sq. ft., whereas plastic malamine weighs 2.33 lb. per sq. ft., yet is equivalent, in its ability to support weight, to a wood floor I+ in. thick.
As an example of the sections it is possible to use whilst still retaining ample strength, the roof of the container body is only f in. thick. The total weight of the body is approximately 12f cwt.
It is claimed that 2f cwt, is saved in a 25-cwt. van body, and 41 cwt, in a 5-ton van. The plastic is resistant to fire, corrosion, acids, damp rot and insect pests. At the same time, it can be drilled, tapped, bolted or joined by adhesives.
University Commercials and Coachwork, Ltd., 99 Boston Road, London, W.7, have been closely associated with L. F. Dove, Ltd., in this project.