Activity on the Transport Unit Front
16th April 1954
Page 40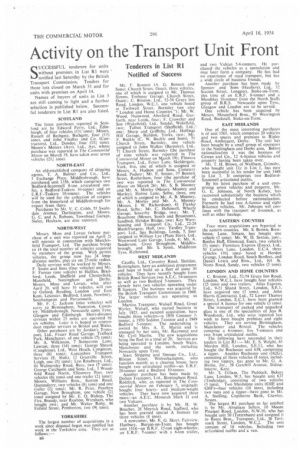 Page 40, 16th April 1954 —
Activity on the Transport Unit Front
Close
Tenderers in List R1 Notified of Success
SUCCESSFUL tenderers for units without premises in List RI were notified last Saturday by the British Transport Commission. Tenders for those lots closed on March 31 and for units with premises on April 14.
Names of buyers of units in List 3 are still coming to light and a further selection is published below. Successful tenderers in List RI are also listed.
SCOTLAND
The latest purchases reported in Scotland arc by Edward Ferry, Ltd.' Edinburgh, of four vehicles (131 tons); Messrs. Russell of Bathgate. Bathgate, four (131 tons), and John Findlay and Co. (Contractors), Ltd.. Dundee, four (131 tons). Moores Motors (Ayr), Ltd., Ayr, whose purchase was reported in The Commercial Motor on March 19, have taken over seven vehicles (211 tons).
NORTH-EAST An old-established company of shipping agents. T. A. Bulmer and Co.. Ltd., 3 Exchange Place, Middlesbrough. have purchased unit 1356, which comprises two Bedford-Scammell 8-ton articulated outfits, a Bedford-Taskers 10-tonner and an E.R.F.-Taskers 10-tonner, The vehicles will be used for the collection of cargoes fi om the hinterland of Middlesbrough for export from there. Purchases by Mr. V. C. Cribb, 55 Swaledale Avenue, Darlington, and Messrs. G. C. and A. Robson, Townhead Garage, Staley, Hexham, are also reported.
NORTH-WEST Messrs. Moss and Lovatt (whose purchase of a unit was reported on April 2) will operate in connection with Macclesfield Transport, Ltd. The purchase brings to 14 the total number of vehicles acquired by members of the group. With permit vehicles, the group now has 24 longdistance outfits, plus six on 25-mile radius. Daily services will be worked by Messrs. F. Swain and Sons (four vehicles) and Mr. F. Forster (one vehicle) to Halifax, Bradford, Leeds, Sheffield and Chesterfield, Mansfield, Nottingham imd Derby. Messrs. Moss and Lovatt, who, after April 20, will have 10 vehicles, will run to Oxford. Reading. London and East Kent. Leicester, Bedford, Luton, Newbury, Southampton and Portsmouth.
Mr. F. C. Jackson (nine vehicles) will carry to Birmingham. Nuneaton, Coventry, Middlesbrough, Newcastle upon Tyne, Glasgow and Edinburgh. Short-distance services within 25 miles are operated by six vehicles. Later it is hoped to reintroduce regular services to Bristol and Wales. Other purchases are by Jordan's Transport, Ltd., Fraser Road Garage, Trafford Park. Manchester, of one vehicle (71 tons); Mr. A. Wilkinson, 7 Stonccross Lane, Lowton, three (141 tons); George Sheard (Congleton), Ltd, West Heath, Congleton, three (8/ tons); -Lancashire Transport Services (E. Holt), 12 Granville Street, Leigh, one (51 tons): Leo Roadways, Ltd., 80 Walmersley Road, Bury, two (7 tons); George Catchpole and Sons, Ltd.. 5 Woodfield Road North, Ellesmere Port. two vehicles (81 tons) and one trailer (21 tons); Messrs. Williams Bros.. Station Road, Queensferry, two vehicles (81 tons) and one trailer (21 tons); Mr. R. Price. Penrhyn Garage, New Broughton, one vehicle (2i tons) assigned by Mr. E. 0. Bishop, The Firs, Brandy, near Ruabon, Wrexham, who bought two; and Mr. Walter Roby, 46 Enfield Street, Pemberton, two (91 tons).
YORKSHIRE The largest number of acquisitions in a week since disposal -began was notified last week in the Yorkshire area. They are as follows :— B6
Mr. F. Bennett (A. G. Bennett and Sons). Church Street. Ossett, three vehicles, one of which is assigned to Mr. Thomas Simms, Embassy Garage, Church Street, Osseo; C. Bristow, Ltd., 52-54 Grays Inn Road, London, W.C.1, one vehicle based at Twibwell Street, Barnsley (see also " London and Home Counties "); Mr. W. Wood. Nunwood, Aberford Road, Garforth. near Leeds, four: F. Crowther and Son (Wakefield), Ltd., Sandal, Wakefield, two; Talbot Transport (Sheffield), Ltd.,', one; Sharp and Griffiths. Ltd., Hollings Hill Garage, Baildon, Yorks, two; Mr. F. Buckle (C. W. Buckle and Sons). 71 Church Street, Barnsley, one vehicle assigned to John Walker (Barnsley), Ltd,, 71 Church Street, Barnsley (the purchase of nine vehicle was reported in The Commercial Motor on March 19); Flowers Transport, Ltd., Fetter Lane, Skeldergate, York, five, one of which is assigned to Messrs. A. Hudson and Sons, Cemetery Road. Pudsey; Mr. E. Senior, 37 Bennett Street. Rotherham. four (the purchase of two was reported in The Commercial Motor on March 26); Mr. S. B. Mooney and Mr. A. Morley (Messrs. Mooney and Morley), Holrne Lane, Selby, three, one of which is assigned to Mr. A. B. Mooney, Mr. A. Morley and Mr. A. Mooney (Messrs. J. W. Richardson), 41 Flaxley Road, Selby ; Mr. C. Hellowell, Wharfe Garage, Sowerby Bridge, two; Mr. T. Beaumont (Messrs. Smith and Beaumont), Sandbed, Hebden Bridge, two; Key Warehousing and Transport Co., Ltd., 22-24 Blackfriargate, Hull. two; Yardley Transport, Ltd., Spa Buildings, Leeds. 7, four assigned to William Lye (Plant Hire), Ltd.. Wcetwood Lane Garage, Leeds, 6; Mr. A. Sanderson, Great Broughton, Middlesbrough. and Mr. S. Spink, Middleton Tyas, Richmond.
WEST MIDLANDS Caudle, Ltd., Coventry Road, Sheldon. Birmingham, have an ambitious programme and hope to build up a fleet of some 30 vehicles. They have recently bought from British Road Services two A.E.C. 14-tormers as well as two Bedford 5-tonners. They already have two vehicles operating under B licences. The business was acquired by the British Transport Commission in 1949. The larger vehicles are operating to London.
Martins Transport, Walsall Road, Great Wyrley, Walsall. who started business in July. 1925, and escaped acquisition, have bought three vehicles—a 1950 Commer 7tonner, a 1950 Seddon 7-tonner and a 1949 Bedford 5-tanner. The undertaking is owned by Mrs. A. E. Martin and is managed by her sons. Mr. Raymond and Mr. Cyril Martin. The new acquisitions bring the fleet to a total of 20. Services are being operated to London, South Wales, Manchester and the north, including Newcastle upon Tyne. Starr. Shipping and Storage Co., Ltd., Bilston Street, Wolverhampton, who function mainly as a clearing house, have bought two articulated outfits—an E.R.F. 20-tonner and a Bedford 10-tonner.
Another purchase has been made by Dolton Transport. Ltd.. Birmingham Road,' Redditch, who, as reported in The Commercial Motor on February 5. originally bought four heavyand medium-weight vehicles. They have now -acquired three more—an A.E.C. Monarch Mark II and two Vulcans.
Another purchase is by Mr. H. W. Boucher, 26 Meyrick Road, Stafford, who has been granted special A licences for three vehicles (8 tons).
A newcomer, Mr. E. G. Skeet. Fairview, Hanbury, Burton-on-Trent, has bought unit 1514—an IMF. 15-ton eight-wheeler, an E.R.F. 7-tonner with a 6-ton trailer,
and two Vulcan 5-6-tonners. He purchased the vehicles as a speculation and may later form a company. He has had no experience of road transport, but has a wide circle of business friends.
Another purchase has been made by Spencer and Sons (Hauliers), Ltd., 32 Station Street, Longport, Stoke-on-Trent, this time of an E.R.F. 8-tonner and a Maudslay 10-tonner from the North Staffs group of B.R.S. Newcastle upon Tyne, Glasgow and London are to be served.
One vehicle has been acquired by Messrs. Mountford Bros., 93 Werfington Road, Bucknall, Stoke-on-Trent.
EAST MIDLANDS One of the most interesting purchases is of unit 1565, which comprises 20 vehicles and two spares and premises in Ripley ,Road, Ambergate, Derby. The unit has been bought by a small group of operators in the Nottingham and Derby area. Before nationalization it was the business of Cowan and Co., 12 A-licence vehicles and property having been taken over. Mr. 'f. H. Brown, of Waltham, Grimsby, who bought unit 11c in List 1, has now been successful in his tender for unit 1448 in List 3. It comprises two BedfordSeammell articulated outfits.
By his latest purchase of a unit comprising seven vehicles and property, Mr. Cl. E. Johnson, of North Kelsey. has recovered substantially the business which he conducted before nationalization. Formerly he had two A-licence and eight B-licence vehicles. Mr, Johnson will continue with the transport of livestock, as well as other haulage.
EASTERN COUNTIES Four more acquisitions are teported in the eastern counties. Mr. S. Brown, Brewhouse. Lane, Soham. has bought one vehicle (3 tons); Mr. W. H. Sexton, junr., Bottles Hal1, Elmstead, Essex, two vehicles (51 tons); Furniture Express (Essex), Ltd., 50 Carters Lane, London. E.C.4. three vehicles (101 tons) based at Horden Grange, London Road, South Benfleet, and Daniel Lewis and Bros., Ltd., 101 St. Neots Road, Sandy, two vehicles (5 tons).
LONDON AND HOME COUNTIES C. Bristow, Ltd., 52-54 Grays Inn Road, London, W.C.1, have bought four vehicles (25 tons) and two trailers. Atlas Express, Ltd., 9-21 Shand Street, London, S.E.1, have acquired one (3 tons), and John Harris (Contracts), Ltd,, 52 Lower Thames Street, London, E.C.3, have been granted a special A licence for one vehicle (3 tons). The transport of packed and unpacked glass is one of the specialities of Jess B. Woodcock, Ltd., who were reported last week to have bought premises and eight vehicles. They are serving Birmingham, Manchester and Bristol. The vehicles comprise a 6-tonner, five 7-tonners and two 8-ton articulated outfits.
The following have succeeded in their tenders in List RI:— Mr. E. S. Weight, 61 Morden Hill, London. S.E.I3, who has bought the Rochester unit 639, comprising a tipper. Another Rochester unit (162G), consisting of three vehicles (8 tons), including two tippers, has gone to Mr. G. A. Blythe, inn, 39 Gazehill Avenue, Sittingbourne, Kent.
Mr. S. Gillam, The Paddock. Bakers Lane, London, W.5, has bought unit 637 (Tonbridge), consisting of two vehicles (5 tons). Two Maidstone units (630E and 630F)—four vehicles (10 tons), including two vans and a tipper—have gone to Mr. A. Snelling, Copthorne Bank, Crawley, Sussex.
The largest RI purchase so far notified is by Mr. Abraham Sellers. 10 Mount Pleasant Road, London, N.W.10. who has bought unit 50 (Tottenham) and assigned it to Reece Bros. Transport, Ltd., 16 Tavistock Street, London, W.C.2. The unit consists of 10 vehicles, Including two articulated outfits and a van.
Tags
People
:
H. W. Boucher
,
F. Forster
,
F. Bennett
,
W. H. Sexton
,
V. C. Cribb
,
E. S. Weight
,
S. Brown
,
W. Wood
,
F. C. Jackson
,
Cyril Martin
,
Daniel Lewis
,
A. E. Martin
,
S. B. Mooney
,
Walter Roby
,
Cl
,
Raymond
,
S. Gillam
,
A. Sanderson
,
S. Spink
,
T. Beaumont
,
R. Price
,
Thomas Simms
,
A. Wilkinson
,
F. Buckle
,
A. Morley
,
A. B. Mooney
,
A. Mooney
Locations
:
Newbury
,
Nuneaton
,
York
,
Crawley
,
Bedford
,
Southampton
,
Leeds
,
Chesterfield
,
Coventry
,
Longport
,
Sheffield
,
Leicester
,
Birmingham
,
Bradford
,
Derby
,
Halifax
,
Wolverhampton
,
Bristol
,
Middlesbrough
,
Oxford
,
Manchester
,
Bury
,
Luton
,
Newcastle upon Tyne
,
Portsmouth
,
Stoke-on-Trent
,
Wakefield
,
Glasgow
,
Nottingham
,
London
,
Waltham
,
Edinburgh
,
Bucknall