Walsall Dislikes Crush-loaders
16th April 1954
Page 36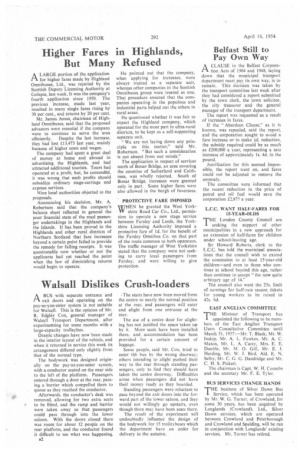 Page 36, 16th April 1954 —
Walsall Dislikes Crush-loaders
Close
A BUS with separate entrance and rt exit doors and operating on the pay-as-you-enter system is not suitable for Walsall. This is the opinion of Mr. R. Edgley Cox, general manager of Walsall Transport Department, after experimenting for some months with a large-capacity trolleybus.
Drastic changes have now been made in the interior layout of the vehicle, and when it returned in service this week its arrangement differed only slightly from that of the normal type.
The bodywork was designed originally on the pay-as-you-enter system, with a conductor seated on the near side to the left of the platform. Passengers entered through a door at the rear, passing a barrier which compelled them to queue as they reached the conductor.
Afterwards, the conductor's desk was removed, allowing for two extra seats to be fitted, and the ramp and barrier were taken away so that passengers could pass through into the lower saloon. With the doors closed there was room for about 12 people on the rear platform, and the conductor found it difficult to see what was happening.
a2 . The stairs have now been moved from the centre to nearly the normal position at the rear, and passengers will enter and alight from one entrance at the rear.
The use of a centre door for alighting has not justified the space taken up by it. More seats have been installed there, and accommodation has been provided for a certain amount of luggage.
Some people, said Mr. Cox, tried to enter the bus by the wrong doorway; others intending to alight pushed their way to the rear through standing passengers, onlyto find they should have taken the centre doorway. Difficulties arose when passengers did not have their money ready as they boarded.
Standing passengers were reluctant to pass beyond the exit doors into the forward part of the lower saloon, and they would not willingly go upstairs, even though there may have been seats there.
The result of the experiment will undoubtedly influence the design of the bodywork for 15 trolleybuses which the department have on order for delivery in the -autumn.