Higher Fares in Highlands,
16th April 1954
Page 36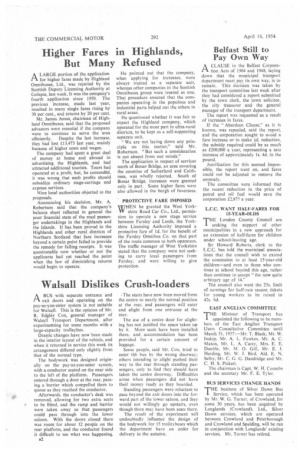 Page 36, 16th April 1954 —
Higher Fares in Highlands,
Close
But Many Refused
A LARGE portion of the application for higher fares made by Highland
Omnibuses, Ltd., was rejected by the Scottish Deputy Licensing Authority at Golspie, last week, It was the company's fourth application since 1950. The previous increase, made last year, resulted in many single fares rising by 30 per cent., and returns by 20 per cent. Mr. James Amos, chairman of Highland Omnibuses, said that the proposed advances were essential if the company were to continue to serve the area efficiently. Despite the last increase, they had lost £13,473 last year, mainly because of higher costs and wages.
The company had spent a great deal of money at home and abroad in advertising the Highlands, and had attracted additional tourists. Tours had operated at a profit, but, he contended, it was wrong that such profits should subsidize ordinary stage-carriage and express services.
Nine local authorities objected to the proposals.
Announcing his decision, Mr. A. Robertson said that the company's balance sheet reflected in general the poor financial state of the road passenger undertakings in the Highlands and the Islands. It has been proved in the Highlands and other rural districts of Northern Scotland that fare increases beyond a certain point failed to provide the remedy for falling receipts. It was questionable now whether or not the applicants had yet reached the point when the law of diminishing returns would begin to operate.
He pointed out that the company, when applying for increases, were always treated as a separate unit, whereas other companies in the Scottish Omnibuses group were treated as one. That procedure ensured that the companies operating in the populous and industrial parts helped out the others in rural areas.
He questioned whether it was fair to expect the Highland company, which operated for the most part in ultra-rural districts, to be kept as a self-supporting separate unit.
"We are not laying down any principle on this matter," said Mr. Robertson. "But such a consideration is not absent from our minds."
The application in respect of services north of Bonar Bridge, an area covering the counties of Sutherland and Caithness, was wholly rejected. South of Bonar Bridge, increases were granted only in part. Some higher fares were also allowed in the burgh of Inverness.
PROTECTIVE FARE IMPOSED WHEN he granted the West YorkVI' shire Road Car Co., Ltd., permission to operate a new stage service between Farsley and Leeds, the Yorkshire Licensing Authority imposed a protective fare of Id. for the benefit of the Farsley Omnibus Co. on that part of the route common to both operators. The traffic manager of West Yorkshire stated that the company were not seeking to carry local passengers from Farsley, and were willing to give protection.