Changes of Base: "Useful" Talks
16th April 1954
Page 33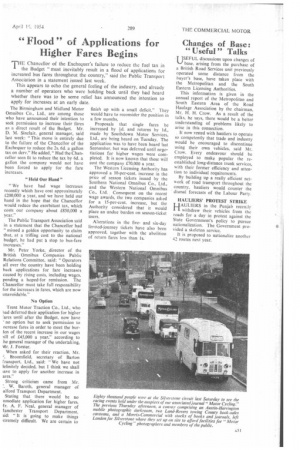 Page 33, 16th April 1954 —
Changes of Base: "Useful" Talks
Close
•USEFUL discussions upon changes of base, arising from the purchase of a British Road Services unit previously operated some distance from the buyer's base, have taken place with the Metropolitan and the South Eastern Licensing Authorities.
This information is given in the annual report of the Metropolitan and South Eastern Area of the Road Haulage Association by the chairman, Mr. H. H. Crow. As a result of the talks, he says, there would be a better understanding of problems likely to arise in this connection.
It now rested with hauliers to operate so competently that trade and industry would be encouraged to discontinue using their own vehicles, said Mr. Crow. Every endeavour should be employed to make popular the reestablished long-distance trunk services, with their former efficiency and attention to individual requirements.
By building up a really efficient network of road transport throughout the country, hauliers would counter the dismal forecasts of the Labour Party.
HAULIERS' PROTEST STRIKE
HAULIERS in the Punjab recendy withdrew their vehicles from the roads for a day in protest against the State Government's policy to pursue nationalization. The Government provided a skeleton service.
It is proposed to nationalize another 42 routes next year.