"Second-round" Bids Reasonable
16th April 1954
Page 32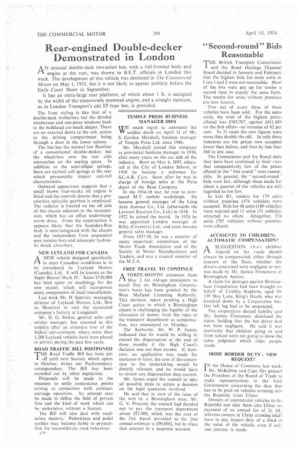 Page 32, 16th April 1954 —
"Second-round" Bids Reasonable
Close
THE British Transport Commission I and the Road Haulage Disposal Board decided in January and February that the highest bids for most units in Lists 1 and 2 were not reasonable. Most of the lots were put up for tender a second time in exactly the same form, The results for units without premises are now known.
Two out of every three of these vehicles have been sold. For the same • units, the total of the highest prices offered. was £583,707. against £411,489 on the first offers—an increase of 42 per cent. In 31 cases the new figures were more than double the old. In only three instances are the prices now accepted lower than before, and then by less than £60 in any case,
The Commission and the Board state they have been confirmed in their view that comparatively few of the prices offered in the" first round" were reasonable. In general, the " second-round bids were fair, although those made for about a quarter of the vehicles are still regarded as too low.
In List RI, tenders for 179 units without premises (474 vehicles) were accepted. Bids for 48 units (180 vehicles) were rejected and 11 units (51 vehicles) attracted .no offers. Altogether, 23)1 units (705 vehicles) without premises were offered,