Tilting platform
15th October 1971
Page 64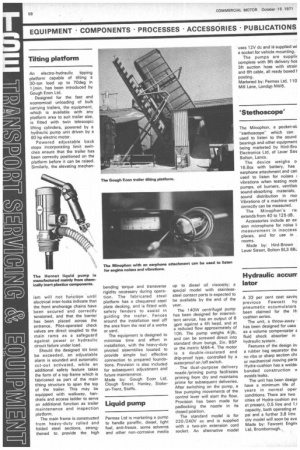 Page 64, 15th October 1971 —
Tilting platform
Close
An electro-hydraulic tipping platform capable of tilting a 30-ton load up to 70deg in 1 rmin. has been introduced by Gough Econ Ltd.
Designed for the fast and economical unloading of bulk carrying trailers, the equipment, which is available with any platform area to suit trailer size, is fitted with twin telescopic lifting cylinders, powered by a hydraulic pump unit driven by a 60 hp electric motor.
Powered adjustable back stops incorporating limit switches ensure that the trailer has been correctly positioned on the platform before it can be raised. Similarly, the elevating mechan ism will not function until electrical inter-locks indicate that the front anchorage chains have been secured and correctly tensioned, and that the barrier has been placed across the entrance. Pilot-operated check valves are direct coupled to the main rains as a safeguard against power or hydraulic circuit failure under load.
Should the designed tilt limit be exceeded, an adjustable alarm is sounded and automatic cut-out activated, while an additional safety feature takes the form of a top frame which is fabricated as part of the main tilting structure to span the top of the trailer. This may be equipped with walkway, handrails and access ladder to serve an additional function as trailer maintenance and inspection platform.
The main frame is constructed from heavy-duty rolled and folded steel sections, strengthened to provide the r high
bending torque and transverse rigidity necessary during operation. The fabricated steel platform has a chequered steel plate decking, and is fitted with safety fenders to assist in guiding the trailer. Fences around the installation seal off the area from the rest of a works or yard.
The equipment is designed to minimize time and effort in installation, with the heavy-duty pivoted assemblies located to provide simple but effective connection to prepared foundations. Provision is also included for subsequent adjustment and future maintenance.
Made by: Gough Econ Ltd, Clough Street, Hanley, Stokeon-Trent, Staffs.