Q We have your 1971 edition of Commercial Motor Tables of
15th October 1971
Page 56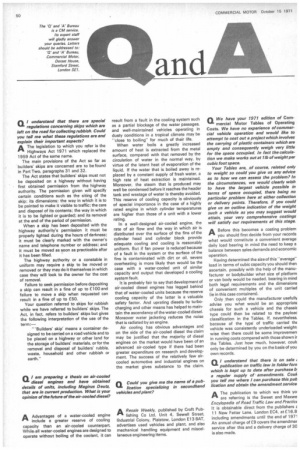 Page 56, 15th October 1971 —
Q We have your 1971 edition of Commercial Motor Tables of
Close
Operating Costs. We have no experience of commercial vehicle operation and would like to attempt to cost out a project which involves the carrying of plastic containers which are empty and consequently weigh very little for the space occupied. In fact the calculation we make works out at 1lb of weight per cubic foot space.
Your Tables are, .of course, related only to weight so could you give us any advice as to how we can assess the problem? In the circumstances, we would clearly wish to have the largest vehicle possible in terms of space occupied, there being no particular problem here at either collection or delivery points. Therefore, if you could give us an outline indication of the weight such a vehicle as you may suggest would attain, your very comprehensive costings will satisfy our requirements at this stage.
A Before this becomes a costing problem " you should first decide from your records what would -constitute a convenient average daily load bearing in mind the need to keep a balance between sales demands and economic operation.
Having determined the size of this "average" load in terms of cubic capacity you should then ascertain, possibly with the help of the manufacturer or bodybuilder what size of platform or van body would be needed, bearing in mind both legal requirements and the dimensions of convenient multiples of the unit carried (ie in this case containers).
Only then could the manufacturer usefully advise you what would be an appropriate chassis for such a vehicle and the chassis type could then be related to the payload classification in the Tables. If, nevertheless, because of the type of traffic carried thc vehicle was consistently underloaded weightwise then there could be some improvemen. in running costs compared with those shown ir the Tables. Just how much, however, coulc only be determined by you on the basis of you own records.