Mobile plant rolls onto York beaver-tail
15th October 1971
Page 39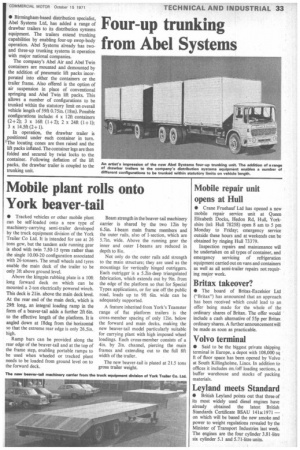 Page 39, 15th October 1971 —
Mobile plant rolls onto York beaver-tail
Close
• Tracked vehicles or other mobile plant can be self-loaded onto a new type of machinery-carrying semi-trailer developed by the truck equipment division of the York Trailer Co Ltd. It is intended for use at 26 tons gcw, but the tandem axle running gear is shod with twin 7.50-15 tyres rather than the single 10.00-20 configuration associated with 26-tonners. The small wheels and tyres enable the main deck of the trailer to be only 3ft above ground level.
Above the kingpin rubbing plate is a 10ft long forward deck on which can be mounted a 2-ton electrically powered winch. This deck is 21in. above the main deck level. At the rear end of the main deck, which is 29ft long, an integral loading ramp in the form of a beaver-tail adds a further 2ft 6in. to the effective length of the platform. It is angled down at 18deg from the horizontal so that the extreme rear edge is only 26.5in. high.
Ramp bars can be provided along the rear edge of the beaver-tail and at the top of the frame step, enabling portable ramps to be used when wheeled or tracked plant needs to be loaded from ground level on to the forward deck. Beam strength in the beaver-tail machinery carrier is shared by the two 12in by 6.5in. I-beam main frame members and the outer rails, also of I-section, which are 5.7in. wide. Above the running gear the inner and outer I-beams are reduced in depth to Sin.
Not only do the outer rails add strength to the main structure; they are used as the mountings for vertically hinged outriggers. Each outrigger is a 5.2in-deep triangulated fabrication, which extends out by gin. from the edge of the platform so that for Special Types applications, or for use off the public road, loads up to 9ft 6in. wide can be adequately supported.
A feature inherited from York's Teamster range of flat platform trailers is the cross-member spacing of only 12in. below the forward and main decks, making the new beaver-tail model particularly suitable for carrying plant with high imposed wheel loadings. Each cross-member consists of a 4in. by 2in. channel, piercing the main frames and extending out to the full 8ft width of the trailer.
The new beaver-tail is plated at 21.5 tons gross trailer weight.