Four-up trunking from Abel Systems
15th October 1971
Page 39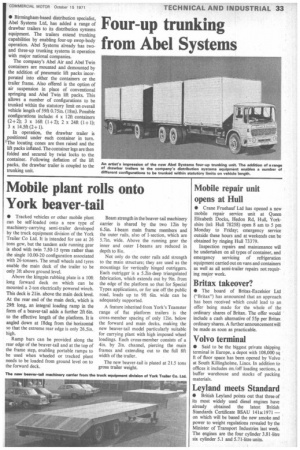 Page 39, 15th October 1971 —
Four-up trunking from Abel Systems
Close
• Birmingham-based distribution specialist, Abel Systems Ltd, has added a range of drawbar trailers to its distribution systems equipment. The trailers extend trunking capabilities by enabling four-up swop-body operation. Abel Systems already has twoand three-up trunking systems in operation with major national companies.
The company's Abel Air and Abel Twin containers are mounted and demounted by the addition of pneumatic lift packs incorporated into either the containers or the trailer frame. Also offered is the option of air suspension in place of conventional springing and Abel Twin lift packs. This allows a number of configurations to be trunkecl within the statutory limit on overall vehicle length of 59ft 0.75in. (18m). Possible configurations include: 4 x 12ft containers (2+2); 3 x 16ft (1+ 2); 2 x 24ft (1+1); 3 x 14.5ft (2+1).
In operation, the drawbar trailer is positioned under each container in turn. iThe locating cones are then raised and the lift packs inflated. The container legs are then folded and secured by twist locks to the container. Following deflation of the lift packs, the drawbar trailer is coupled to the trunking unit.