People
15th October 1971
Page 34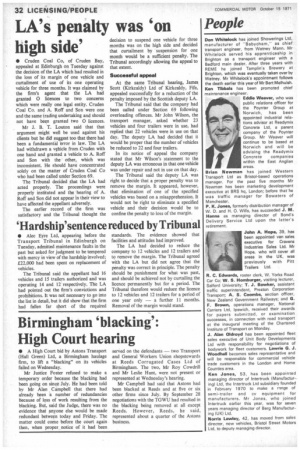 Page 34, 15th October 1971 —
People
Close
Don Whitelock has joined Showerings Ltd, manufacturer of ''Babycham," as chief transport engineer, from Watney Mann. Mr Whitelock served his apprenticeship in Brighton as a transport engineer with a Bedford main dealer. After three years with REME he joined Tamplin's Brewery at Brighton, which was eventually taken over by Watney. Mr Whitelock's appointment follows the death earlier this year of Mr Bert Melhuish. Ken Tibbals has been promoted chief maintenance engineer.
Eddie Weaver, who was public relations officer for the Poynter Group at Norwich, has been appointed industrial relations advisor at Readymix Concrete Ltd, a parent company of the Poynter Group. Mr Weaver will continue to be based at Norwich and will be advising the Readymix
Concrete companies within the East Anglian areas.
Brian Newman has joined Western Transpor't Ltd as Bristol-based operations manager. For the past five months Mr Newman has been marketing development executive at BRS hq, London; before that-he was traffic manager for Bowaters of Manchester.
P. K. Jones, formerly distribution manager of W. D. and H. 0. Wills, has succeeded J. M. Hanna as managing director of Bond's Delivery Service Ltd upon the latter's retirement.
John A. Hope, 39, has been appointed van sales executive for Cravens Industries Sales Ltd. Mr Hope, who will cover all areas in the UK, was previously with Pitt Trailers Ltd.
R. C. Edwards, roster clerk, W. Yorks Road Car Co; W. S. Homburger, visiting lecturer, Salford University; T. J. Bovvker, assistant traffic superintendent, Preston Corporation Transport; A. S. Coombs, section officer, New Zealand Government Railways; and G. F. Brown, operations manager, National. Carriers Ltd, Ipswich, received their awards for papers submitted. or examination successes, in connection with road transport at the inaugural meeting of the Chartered Institute of Transport on Monday.
J. Alan Oldroyd has been appointed fleet sales executive of Unit Body Developments Ltd with responsibility for negotiations of bodywork for fleet customers. Lawrie G. J. Woodhall becomes sales representative and will be responsible for commercial vehicle trade customers in the London and Home Counties area.
Ken Jones, 53, has been appointed managing director of Intertruck (Manufacturing) Ltd, the lntertruck Ltd subsidiary founded in February 1970 to make a ringe of semi-trailer and cv equipment for manufacturers. Mr Jones, who joined Intertruck earlier this year, was for seven years managing director of Berg Manufacturing (UK) Ltd.
Norris Lawley, 42, has moved from sales director, new vehicles, Bristol Street Motors Ltd, to deputy managing director,
Tags
People
:
Norris Lawley
,
Norwich
,
P. K. Jones
,
John A. Hope
,
J. Alan Oldroyd
,
Don Whitelock
,
G. F. Brown
,
Ken Jones
,
A. S. Coombs
,
Ken Tibbals
,
T. J. Bovvker
,
Bert Melhuish
,
Eddie Weaver
,
Brian Newman