'Lose your load' drivers jailed
15th October 1971
Page 23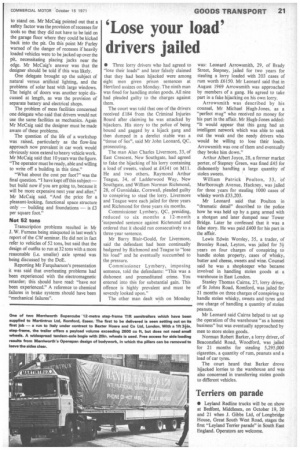 Page 23, 15th October 1971 —
'Lose your load' drivers jailed
Close
• Three lorry drivers who had agreed to "lose their loads" and later falsely claimed that they had been hijacked were among eight men given prison sentences at Hertford assizes on Monday. The ninth man was fined for handling stolen goods. All nine had pleaded guilty to the charges against them.
The court was told that one of the drivers received £184 from the Criminal Injuries Board after claiming he was attacked by hijackers. His story to the police of being bound and gagged by a hijack gang and then dumped in a derelict stable was a "tissue of lies", said Mr John Leonard, QC, prosecuting. The man Alan Charles Livermore, 33, of East Crescent, New Southgate, had agreed to fake the hijacking of his lorry containing a load of sweets, valued at £4341 on M11. He and two others, Raymond Arthur Teague, 34, of Ladderwood Way, New Southgate, and William Norman Richmond, 28, of Gunnislake, Cornwall, pleaded guilty to conspiring to steal the lorry. Livermore and Teague were each jailed for three years and Richmond for three years six months.
Commissioner Lymbery, QC, presiding, reduced to six months a 12-month
'suspended sentence against Richmond and ordered that it should run consecutively to a three-year sentence.
Mr Barry Blair-Gould, for Livermore, said the defendant had been continually badgered by Richmond and Teague to "lose his load" and he eventually succumbed to the pressure.
Commissioner Lymbery, imposing sentence, told the defendants: "This was a dishonest and premeditated crime. You entered into this for substantial gain. This offence is highly prevalent and must be severely looked upon."
The other man dealt with on Monday was: Leonard Arrowsmith, 29, of Brady Street, Stepney, jailed for two years for stealing a lorry loaded with 203 cases of rum worth £6150. Mr Leonard said that in August 1969 Arrowsmith was approached by members of a gang. He agreed to take part in a fake hijacking on his own lorry.
Arrowsmith was described by his counsel, Mr Michael Hugh-Jones, as a "perfect mug" who received no money for his part in the affair. Mr Hugh-Jones added: "It would appear that this gang had an intelligent network which was able to seek out the weak and the needy drivers who would be willing to lose their loads. Arrowsmith was one of them and eventually they broke him down."
Arthur Albert Joyce, 28, a former market porter, of Stepney Green, was fined £45 for dishonestly handling a large quantity of stolen sweets.
William Patrick Poulton, 33, of Marlborough Avenue, Hackney, was jailed for three years for stealing 1000 cases of whisky worth £33,203.
Mr Leonard said that Poulton in "dramatic detail" described to the police how he was held up by a gang armed with a shotgun and later dumped near Tower Bridge. Later he confessed that it was a false story. He was paid £400 for his part in the affair.
Lewis Edwin Worsley, 35, a trader, of Bromley Road, Leyton, was jailed for 3-1years on four charges of conspiring to handle stolen property, cases of whisky, butter and cheese, sweets and wine. Counsel said he was a shopkeeper who became involved in handling stolen goods at a warehouse in East London.
Stanley Thomas Cairns, 27, lorry driver, of St Johns Road, Romford, was jailed for 21 months on three charges of conspiring to handle stolen whisky, sweets and tyres and one charge of handling a quantity of stolen peanuts.
Mr Leonard said Cairns helped to set up the operation of the warehouse "as a honest business" but was eventually approached by men to store stolen goods.
Norman Robert Barker, a lorry driver, of Beaconsfield Road, Woodford, was jailed for 21 months for stealing 5,295,000 cigarettes, a quantity of rum, peanuts and a load of car tyres.
The court heard that Barker drove hijacked lorries to the warehouse and was also concerned in transferring stolen goods to different vehicles.
Terriers on parade
• Leyland Redline trucks will be on show at Bedfont, Middlesex, on October 19, 20 and 21 when J. Gibbs Ltd, of Longbridge House, Great South West Road, stages the first "Leyland Terrier parade" in South East England. Operators are welcome.
Tags
People
:
Norman Robert Barker
,
William Patrick Poulton
,
Stanley Thomas Cairns
,
Leonard Arrowsmith
,
Alan Charles Livermore
,
Barry Blair-Gould
,
Arthur Albert Joyce
,
John Leonard
,
Lymbery
,
Lewis Edwin Worsley
,
Raymond Arthur Teague
,
Cornwall
,
New Southgate
,
Woodford
,
Michael Hugh-Jones
,
William Norman Richmond
,
Leyton
,
Hackney
,
Romford