New grant scheme for group training
15th October 1971
Page 20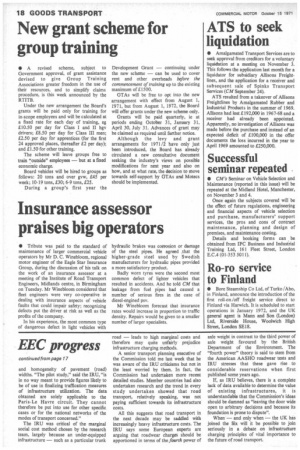 Page 20, 15th October 1971 —
New grant scheme for group training
Close
• A revised scheme. subject to Government approval, of grant assistance devised to give Group Training Associations greater freedom in the use of their resources, and to simplify claims procedure, is this week announced by the RTITB.
Under the new arrangement the Board's grants will be paid only for training for in-scope employees and will be calculated at a fixed rate for each day of training, eg £10.50 per day for Class I and II hgv drivers; £8.50 per day for Class III men; £2.50 per day for apprentices (for the first 24 approved places, thereafter £2 per day); and £1.50 for other training.
The scheme will leave groups free to train "outside" employees — but at a fixed economic charge.
Board vehicles will be hired to groups as follows: 20 tons and over gvw, £45 per week; 10-19 tons, £30; 6-9 tons, £25.
During a group's first year the
Development Grant — continuing under the new scheme — can be used to cover rent and other overheads before the commencement of training up to the existing maximum of £1500.
GTAs will be free to opt into the new arrangement with effect from August 1, 1'971, but from August 1, 1972, the Board will offer grants under the new scheme only.
Grants will be paid quarterly, ie at periods ending October 31, January 31, April 30, July 31. Advances of grant may be claimed as required until further notice.
Although the levy and grant arrangements for 1971/2 have only just been introduced, the Board has already circulated a new consultative document seeking the industry's views on possible modifications for next year and also on how, and at what rate, the decision to move towards self-support by GTAs and Motecs should be implemented.