It's quality that counts
15th November 2012
Page 21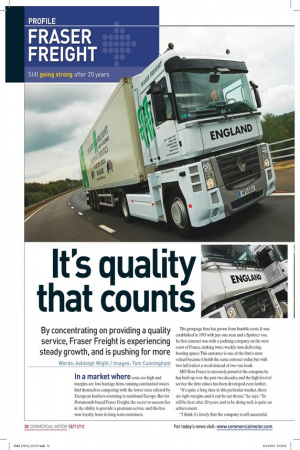 Page 22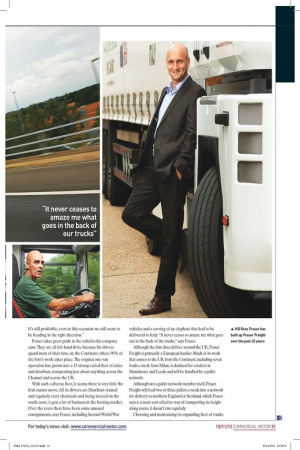 Page 23
Page 24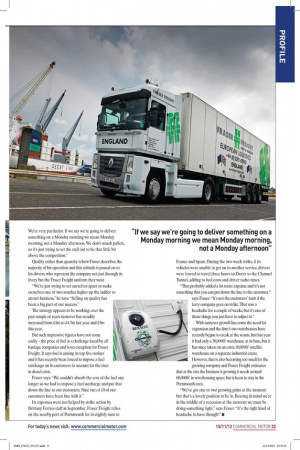 Page 21, 15th November 2012 —
It's quality that counts
Close
By concentrating on providing a quality service, Fraser Freight is experiencing steady growth, and is pushing for more
Words: Ashleigh Wight / Images: Tom Cunningham In a market where costs are high and margins are low, haulage firms running continental routes find themselves competing with the lower rates offered by European hauliers returning to mainland Europe. But for Portsmouth-based Fraser Freight, the secret to success lies in the ability to provide a premium service and this has won loyalty from its long-term customers. The groupage firm has grown from humble roots. It was established in 1993 with just one man and a Sprinter van. Its first contract was with a yachting company on the west coast of France, making twice-weekly runs delivering boating spares. This customer is one of the firm's most valued because it holds the same contract today, but with two full trailers a week instead of two van loads.
MD Ross Fraser is extremely proud of the company he has built up over the past two decades, and the high level of service the firm values has been developed even further.
"It's quite a long time in this particular market, there are tight margins and it can be cut-throat," he says. "To still be here after 20 years, and to be doing well, is quite an achievement.
"I think it's lovely that the company is still successful. It's still profitable, even in this recession we still seem to be heading in the right direction." Fraser takes great pride in the vehicles his company runs. They are all left-hand drive because his drivers spend most of their time on the Continent, where 90% of the firm's work takes place. The original one-van operation has grown into a 15-strong varied fleet of artics and drawbars, transporting just about anything across the Channel and across the UK.
With such a diverse fleet, it seems there is very little the firm cannot move. All its drivers are Hazchem-trained and regularly carry chemicals and, being located on the south coast, it gets a lot of business in the boating market. Over the years there have been some unusual consignments, says Fraser, including Second World War vehicles and a carving of an elephant that had to be delivered to Italy. "It never ceases to amaze me what goes out in the back of the trucks," says Fraser.
Although the firm does deliver around the UK, Fraser Freight is primarily a European haulier. Much of its work that comes to the UK from the Continent, including seven loads a week from Milan, is destined for retailers in Manchester and Leeds and will be handled by a pallet network.
Although not a pallet network member itself, Fraser Freight will feed two or three pallets a week into a network for delivery to northern England or Scotland, which Fraser says is a more cost-effective way of transporting its freight along routes it doesn't run regularly.
Choosing and maintaining its expanding fleet of trucks is something the haulier takes seriously. It is committed to running modern vehicles, replacing them every three years. They are hosed down every week to ensure they look their best.
As for preferred manufacturers, it's a 50:50 split between Daf and Renault. The latest additions are five new Renault Magnums, which joined the fleet earlier this year. With Daf and Renault dealerships close to its base, downtime is kept to a minimum.
"Their breakdown coverage in Europe is very, very good," Fraser says. "Certainly having a dealership on your doorstep is handy too." Listening to what drivers want and need is another big part of Fraser Freight's philosophy. With its main market in Milan and regular routes across Germany, Spain and France, drivers are commonly away from home for a week at a time, so in-cab comfort is something the firm takes seriously. Its 15 drivers have significant input into the trucks they drive and have stayed loyal to the firm; many of them have been with it for 10 or even 15 years.
Fraser says: "Because the drivers have to live with them for a week at a time we do let them spec them up, within reason. They all have fridges, some have microwave ovens, they have air-conditioning if they get too hot and have night heaters if they get too cold. You can imagine travelling to Barcelona in July and August – trying to sleep at night is just so difficult, so they all have external air-con pods."
The Italian job
He admits that because the firm's work on the Continent is such a success it has an imbalance of trade, with more coming into the UK than going out. The company usually has seven trucks being utilised for its Italy-based trade, for example, but it often receives enough freight on the return journey to fill nine trucks.
These extra backloads, unable to fit into Fraser Freight's trailers, are subcontracted to Milan-based haulier IGW Interworld, which delivers the extra two loads a week to the UK. To show its appreciation, its logo can be seen on the seven Fraser Freight trucks that operate in Italy.
Fraser says: "It's the same subcontractor that we've been using for a number of years. I looked for how I would base Fraser Freight and get someone with the same mentality, who would take the same care and look after the freight like we do." Looking after their freight is something the firm prides itself on and Fraser sees this as his firm's biggest selling point. In a challenging market where British haulage firms with continental routes are competing with European drivers seeking backloads, Fraser Freight is confident its competitors do not provide the same level of service.
"We've tried to offer a premium service. Anybody can deliver a pallet from A to B but it's how you go about it.
We're very particular. If we say we're going to deliver something on a Monday morning we mean Monday morning, not a Monday afternoon. We don't smash pallets, so it's just trying to set the stall out to be that little bit above the competition." Quality rather than quantity is how Fraser describes the majority of his operation and this attitude is passed on to his drivers, who represent the company not just through its livery but the Fraser Freight uniform they wear.
"We're just trying to set ourselves apart or make ourselves one or two notches higher up the ladder to attract business," he says. "Selling on quality has been a big part of our success." The strategy appears to be working: over the past couple of years turnover has steadily increased from £4m to £4.5m last year and £5m this year.
But such impressive figures have not come easily – the price of fuel is a challenge faced by all haulage companies and is no exception for Fraser Freight. It says fuel is among its top five outlays and it has recently been forced to impose a fuel surcharge on its customers to account for the rises in diesel costs.
Fraser says: "We couldn't absorb the cost of the fuel any longer so we had to impose a fuel surcharge and put that down the line to our customers. Nine out of 10 of our customers have been fine with it." Its expenses were not helped by strike action by Brittany Ferries staff in September. Fraser Freight relies on the nearby port of Portsmouth for its nightly runs to France and Spain. During the two-week strike, if its vehicles were unable to get on to another service, drivers were forced to travel three hours to Dover to the Channel Tunnel, adding to fuel costs and driver tacho times.
"That probably added a lot more expense and it's not something that you can put down the line to the customer," says Fraser. "It's not the customers' fault if the ferry company goes on strike. That was a headache for a couple of weeks, but it's one of those things you just have to adjust to." With turnover growth has come the need for expansion and the firm's two warehouses have recently begun to creak at the seams. Just last year it had only a 30,000ft2 warehouse at its base, but it has since taken on an extra 10,000ft2 satellite warehouse on a separate industrial estate. However, that is also becoming too small for the growing company and Fraser Freight estimates that at the rate the business is growing it needs around 60,000ft2 in warehousing space, but is keen to stay in the Portsmouth area.
"We've got one or two growing pains at the moment but that's a lovely position to be in. Bearing in mind we're in the middle of a recession at the moment we must be doing something right," says Fraser. "It's the right kind of headache to have though!" ■